Harper Government Defeated on Contempt
---

In a Liberal motion of non-confidence, the standing Conservative minority government was defeated. The motion attached clauses from the committee report that found the government in contempt.
The government fell as 156 MPs voted to defeat the government while 145 MPs voted against the Liberal motion. This means that the fortieth parliament will be dissolved and the fourth general election in seven years has begun. Tomorrow morning, the Prime Minister will visit the Governor General and request an election on the date of May 2 or May 9. Meanwhile, the Liberals will hold their first rally in Ottawa.
On dissolution, here are the standings of the house: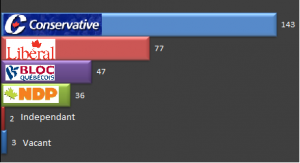 Stay tuned and watch as this election unfolds.