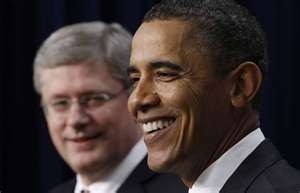 WikiLeaks: American Officials Critical of Harper
---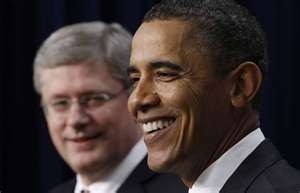 For a man who has long been known to want a close partnership with the US and American social policy to be instated to make Canada a leader rather than a "second-tier socialist country," his American plans do not resonate well with American officials. WikiLeaks has struck again – with criticisms of a broad range of criticisms that the United States made about Stephen Harper's governance. A picture is being painted – American officials don't think Harper is the right leader for Canada.
International relations will always be important when it comes to the coexistence of nations and super powers, and it seems that Harper has made Canada a laughing stock in more ways than just the environment at Copenhagen.
In January 2010, the US ambassador to Canada weighed in on Harper's 'tough on crime' agenda in a leaked cable stating, ""The Conservatives have used the crime agenda to great effect, making it an essential part of their "brand," in spite of the fact that they have not actually passed most of their proposed crime and security legislation."
When it comes to copyright legislation, Harper receives a failing grade. On February 29, 2008, the US Embassy stated, "Embassy Ottawa remains frustrated by the Government of Canada's continuing failure to introduce — let alone pass — major copyright reform legislation that would, inter alia, implement and ratify the World Intellectual Property Organization (WIPO) Internet Treaties."
When it comes to prorogation, the American government paid close attention. In December 2008, a cable said:
"Michäelle Jean, who returned to Ottawa on December 3, will likely be guided by custom in the present situation, although the complexities of the current impasse … mean that she may also end up establishing a new precedent for vice-regal authority."

"Her primary challenge must be to act in the best interest of Canada, while preserving the non-partisan character of her office."
When it comes to senate reform, Harper gets slammed, a report from December 2008 suggests that Harper's appointment of senators as "a major about-face for a PM and a party that long campaigned for an elected upper chamber. The cost of the eighteen new senators also conflicts with political messaging about the need for official belt tightening."
The Liberals also faced criticism. A leaked document from January 2010 said that at the return of the prorogation issue, the party had "a lack of energy and hands-on leadership."
"The Liberals face a tough road ahead if they hope to beat the Conservatives in the next federal election — whether in 2010 or 2011."
If there is but one glimmer of hope for Harper's dream of an American Canada, it lies in his minister Lawrence Cannon – in the eyes of the US. In November 2008, an official at the US embassy suggests that Cannon is "an experienced and competent administrator who is likely to provide stability to a department that has had four ministers since the Conservatives took office in 2006." The official also said that Cannon was "one of very few in the national Conservative caucus with experience in government."
If it wasn't Harper's dismal attendance and participation at the Copenhagen summit that brought the world to tears of laughter, it is stunning to see how his attempts to follow his leader – the US – has failed him so miserably.