Kiss the Surplus by 2014-15 Goodbye – It was only a ploy to get your vote
---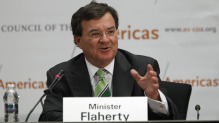 The election results are barely a week old and the Globe and Mail Reports that the revised 2011 budget that will be presented next month will not show a surplus by 2014-15 as promised in the Conservative platform. This is the same platform that Flaherty tweaked publically and announced $11 billion in cuts to make the surplus appear a year sooner than that.
However, despite the lack of appearance in the Budget, Flaherty insists that he will have economists look at it and get back to us… that is politician lingo for "never going to happen, sorry folks."
"We will do the strategic and operating review and we will book [those savings] once the review is done. That will get us to balance a year earlier, but is not part of the upcoming budget," Chisholm Pothier, Mr. Flaherty's spokesperson.
Stephen Harper made the primary pitch of his campaign revolve around his economic management – the same management that diminished a $13 billion surplus in under 2 years – before the recession – and put Canada into a record $56 billion hole. Finance Minister Jim Flaherty said in November 2008, that there would be no deficit, and Harper said that there would be no recession 3 months after the economy slowed and the books hit the red. He warned that the spending promises in both the Liberal and NDP platforms would be detrimental for the economy and that he needed a majority government to maintain stability.
On CTV's Power Play, Flaherty denied that he was committing to eliminating a year earlier – as he and his party did in the 2011 election.
Flaherty told Power Play, "No. I think we have to look at all of the data. We use an average of the private sector forecasters, as we have done for years now, to make sure that we're on the right track, and in sync with the view of the private sector on the economy, so we'll look at all these things, there's a couple of platform commitments too that we'll look at as well, but fundamentally it will be the same budget that was introduced on March 22."
In other words, Flaherty just admitted that the Conservatives lied when they went around waving the extra $11 billion in cuts the the year advancement in deficit elimination and said that they found the $11 billion in the budget when he clearly states that he did not.
The Conservative Platform stated: "Through accelerated reductions in government spending, a re-elected Stephen Harper government will eliminate the deficit by 2014-15."
The Conservatives claim that they can afford jets and corporate tax cuts and prisons when they are stating that they want to make cuts in public spending. (Logically, cuts mean cuts, not added spending and then cuts… spending extra defeats the purpose.)
On an added note, Harper warned that if the NDP were elected, gas prices would sky rocket… less than a week into his mandate, and gas prices skyrocketed…
Maybe the economy wasn't the Conservative strong suit after all…