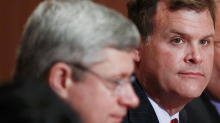 Conservatives go in Two Directions when it comes to the Israel Issues
---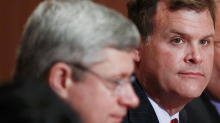 During the G8 summit, Stephen Harper stood alone in rejecting Obama's peace offer that would have Israel use its 1967 borders as a standing point for peace negotiations with independence seeking Palestinians. Now, Foreign Affairs Minister John Baird is singing a different tune from his leader, supporting Obama's initiative.
"We support, obviously, that that solution has to be based on the '67 border, with mutually agreed upon swaps, as President Obama said," Baird said.
Although the international community widely accepted Obama's plan, the American and Israeli governments have no desire to share Jerusalem with an independent Palestine. Israel Prime Minister Benjamin Netanyahu rejected Obama's plan.
Stephen Harper is a staunch supporter of Israel and refused to support Obama's plan even though it reflected Canada's official position. At the G8, his lone message wasn't well received, a British Official said, "Mr. Harper clearly is the odd man out on this one, and it won't do him any favors." Britain's Conservative Prime Minister David Cameron has a stance that favors the Arabs and has criticized Israel. He said that Obama "turned a corner" and built a common front. He called Obama's speech "bold" and"visionary."
Due to Harper's positions, Canada has been left out of the initiatives.
In 1967, Israel fought Egypt, Jordan and Syria in a six-day war capturing the West Bank, Gaza Strip, Golan Heights, Sinai Peninsula, and East Jerusalem. All of the territories were kept but Sinai that was returned to Egypt.
The West Bank and Gaza Strip are currently governed by semi-autonomous Palestinian Authority and East Jerusalem is a major striking point for negotiations.
Baird said that his statement wasn't an about-face in Conservative policy, but wasn't familiar with the 1967 UN declaration that called on Israel to pull its troops back called Resolution 242.
Interim Liberal Leader Bob Rae demonstrated his knowledge of the issue with a casual reference to 242.
"Go back to President Nixon, Mr. Kissinger, all that, all the efforts, the Madrid process, the Oslo process, all the events, the Annapolis process, more recently the effort that President Obama began. All these efforts since what, 40 years, are based on 242."