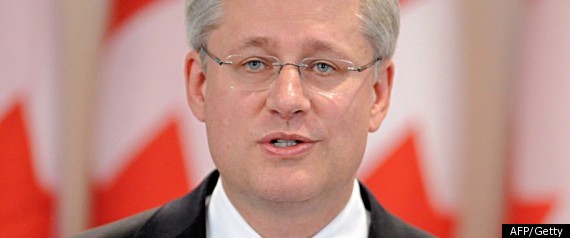 How Stephen Harper's Misguided Decisions will Finish Canada Off
---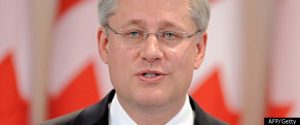 In 2008, Stephen harper was reluctant to take notice of the coming recession and denied its existence until it hit hard. On the eve of the storm's arrival, Harper faked an election to try to get a majority, thinking that the recession would be his downfall if he didn't. He fell short of a majority and rode through the storm taking almost every demand the sharp-bladed opposition shoved at him.
In fact, if the opposition didn't take out the coalition card, Harper probably would have still done nothing. However, as bad as Harper's choice to be inactive nearly killed the economy, his new choice to become a control freak will have the same negative impact.
Economists are warning that the Canadian economy will contract and as the American and European markets continue to collapse, there is no doubt that Canada is headed for a second dip into the murky waters of recession. In light of the fog that hangs over a freshly brewed economic storm over the horizon, Harper believes that we will not be impacted – for if he did, he wouldn't be daring to try to cut the deficit now.
In trying to slay the deficit, Harper will be cutting jobs, and as much as I have used weather as a descriptor thus far, Environment Canada will be one of the biggest agencies to be cut… oh how uncertain the economic future may be and it will change as rapidly and unpredictably as the weather.
As Canada's manufacturing sector showed a dismal performance in June – seeing sales drop twice – to the lowest level since the November 2010. This will be the third consecutive drop for the manufacturing sector and economists at Bloomberg predict an upcoming 0.7% drop – again.
Harper touts that his 'low tax plan' has been working and that he should be 'sticking the course' but in light of throwing money around and generating great photo-ops, Harper has done nothing for our economy. Maybe Tony Clement's riding will seem a bit richer, but Canada is just weakening – so much for leadership…
"A report like this further reinforces the risk that the economy contracts in outright terms for the second quarter as a whole, putting growth well under the Bank of Canada's forecast for 1.5 per cent quarter-over-quarter annualized growth in the second quarter," said Scotia Capital economist Derek Holt.
The weaker data "will reinforce expectations for the Bank of Canada to remain on hold for the next couple of quarters," said CIBC World Markets chief economist Avery Shenfeld, who also forecasts a slight contraction in the second quarter.
Statistics Canada reported that 77.5% of the manufacturing sector had lower sales in 6 provinces.
Overall, "the overall weak profile for economic growth among Canada's key trading partners over the next few months is likely to weigh heavily on the manufacturing sector," said economist Francis Fong at TD Economics.
As the Canadian economy slows to a crawl and the American markets prepare to take a head spin with the reckless decisions that came after US President Barack Obama let the Republicans overpower him with a plan that top American economists said was a recipe for disaster. Looking to Europe, it is almost guaranteed that a second recession will take place as Germany and France struggle to carry the weight of Greece, Spain, and Portugal.
In light of this bleak economic future, Harper seemed falsely optimistic, even though our markets don't fair that much better.
"It continues to be our view that the Canadian economy will grow; it will grow gradually and slowly, along with the world recovery," Harper said at his recent trade meeting in Brazil. "As long as those remain the circumstances, the policy mix of the government of Canada is the appropriate one."
And as research associate for the Canadian Centre of Policy Alternatives David Macdonald put it, "It's too bad that there isn't a more flexible plan, irrespective of whether Canadians are out of work, irrespective of whether economic growth is anemic, irrespective of whether we even need to cuts to balance the budget. What it means is a whole bunch more people are going to lose those jobs … People who don't have those jobs are not going to be spending in the economy, so you're pushing up the unemployment rate at the same time as you're driving down economic growth."
University of Ottawa economist Mario Seccareccia paints the picture much clearer.
"In order to have growth in an economy, you need to have some sector of the economy go into debt, and the question is, who is going to hold that hot potato of debt?" he says. "We have a federal government that's telling us that we've got to get our fiscal house in order, but to do that you're going to destabilize the economy. It's like wrecking all your neighborhood so you can get your house in better shape."
Harper's plan of deregulation and a laissez faire approach and then suddenly making cuts is an act that will destabilize an already unstable economy.
The private sector – despite its bailouts and tax cuts – could not get its act together and isn't growing.
The public sector is now going to be slashed which will create higher unemployment. The increase in demand on employment insurance premiums will drive government costs. People who get less than what they had from the EI will cut spending and cut government revenue. The country will remain in deficit and income will continue to drop as expenses continue to grow.
It goes to show that Harper's new initiative to act – instead of being laissez-faire – will become yet another burden to a hurting economy.
In 2006, Harper acquired and effectively squandered a $13 billion surplus. Not only did he overcut taxes and deregulate the private sector too much, he failed to create a strategic plan to repair our ailing economy. The bailouts to GM, the flawed stimulus packages, cost each tax payer money – the money that mounted the largest deficit in Canadian history – that didn't come back to the tax payer in any foreseeable way. Our lives are not better, and no, we will not invest or spend money right now – especially when we are paying more than 15% more on food now than when Harper came into power – so much for the benefits of those tax cuts…
In cutting the GST by 2%, suckers got reeled in. As inflation kept going at a steady rate of 2% per year, the immediate savings to big spenders soon squandered as stores raised their prices. At the same time, Harper wiped out a large bulk of national revenue – but that's all fine because he will cut jobs to accommodate for it in a time when jobs are sparse. Now, let's not forget the corporate tax cuts at the same time.
Sure, the public sector needs to shrink, and public sector workers are paid a lot more generously than private sector workers, but as long as the economy remains fragile and in contraction, killing jobs to save money will only help accelerate contraction.
In the end of the day, it is time for corporate welfare to end, and time for government to shrink to its means and play as a visionary in running an economy. Harper has shown by his choice of cuts that the future of Canada is not beneficiary to artists and scientists – in which case the bleed out to the US and world will continue.
Harper has shown by his timing for cuts that he is reckless and is still playing political games – he did promise a balanced budget by 2014… reelection in 2015 will be difficult if he fails.
He has shown his naivety by saying that our economy is growing during his summit in Brazil when economists warn that it risks contracting more and some go as far as to say that we are headed for a second-dip recession.
In the end of the day, Harper's incompetence and ideologically driven decisions will serve as the final blow to Canada's economy.
As we look across to the official opposition for an alternative, we see another picture, a much bleaker picture… close to $80 billion in new spending which will undoubtedly lead to massive tax hikes which will have the same devastating effect. Just remember, the more you promise to spend, the more revenue you need, and revenue will always be uncertain, be short by a few billion and Canada's economy and people will suffer.
What does Canada have left to look forward to? Harper's propaganda of our strong economy has been taken into his own personal use and the opposition, unfortunately, isn't any better.