Conservatives Raise EI Premiums–Tax Jobs
---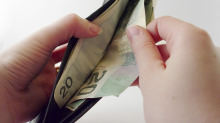 As of January 1, 2012,  you will be making less money as Harper's Employment Insurance Premium Hikes take effect. Workers will see their EI premiums rise 5% of insurable earnings to $1.83 while the maximum insurable pay has been raised to $45,900 from $44,200.
Those who qualify for the maximum over the year will lose $142 off their pay checks and their bosses will have to pay $164.
People will have less money due to this move and the Canadian Taxpayers Federation estimates that these premium hikes will make hiring more expensive. If we connect the dots, this means fewer jobs will be created.
"Across Canada there are governments that claim they are concerned about jobs and the economy, but at the same time they are taking hundreds of dollars of disposable income out of the pockets of Canadian families," said CTF federal director Gregory Thomas.
"Between the employer and employee, you have $6,630 of payroll taxes. That's the price of hiring a Canadian."
A spokesman for Jim Flaherty argues that the tax relief over the years is sufficient for this to not be painful.
Meanwhile, the corporate tax hike will take another 1.5% cut to 15% as provinces join to cut towards 10% provincially.
This will bring Canada's combined corporate tax rate down to 25% from 43% in 2000 and put Canadian corporations in a very competitive place in relation to other countries – too bad 97% of jobs in Canada are created by small businesses and that of the remaining 3%, corporations are likely a fraction. But, keep in mind that raising these taxes is detrimental and has worse consequences (it would be like raising taxes more than the amount that you want and then get another greedy grab off of the backs of consumers… us) – even if the economy worked great at those restore points.
Quebec, the most taxed province in North America will see another increase to the QST to make it now 9.5% and will also raise its EI premiums by 5.6%. Health taxes and tuition rates in Quebec will also go up, along with a soon to be increase of 1 cent per liter on gas.
In British Columbia, health taxes will raise by 6.4% for couples and 5.8% for individuals.
It goes to show that no matter how much a government claims to care about jobs, growth, the economy, and the people that ultimately pay the price, tax hikes are always a button away for them and they will soon be defending their financial mismanagements.
The Conservatives call themselves the party of low taxes, but while they didn't yet raise the GST, like Mulroney did when he introduced it, they have increased EI premiums, an indirect tax grab, and they have taxed income trusts, which is a direct attack on retirement.