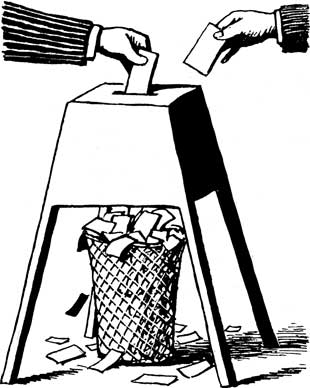 Robocall Scandal: 34 Ridings and Counting…
---
Earlier today, it was reported that
29 ridings and counting
were effected by Robocalls in the last election. An updated count pits 34 as the cumulative total among the Liberals and NDP, accounting for 11% of the total seats in the House of Commons.
Below are the lists of ridings found to have received misleading calls in the last election.
Liberal
| | | |
| --- | --- | --- |
| Sydney – Victoria (NS) | Kitchener – Waterloo (ON) | Guelph (ON) |
| Egmont (PE) | London North Centre (ON) | Simcoe-Grey (ON) |
| Kitchener – Conestoga (ON) | Mississauga East – Cooksville (ON) | Hamilton East – Stoney Creek (ON) |
| Etobicoke Centre (ON) | Winnipeg South Centre (MB) | St. Paul's (ON) |
| Perth – Wellington (ON) | Niagara Falls (ON) | Sudbury (ON) |
| Cambridge (ON) | Wellington – Halton Hills (ON) | Oakville (ON) |
| St. Catharines (ON) | Ottawa Orleans (ON) | Willowdale (ON) |
| Haldimand – Norfolk (ON) | Ottawa West – Nepean (ON) | Saint Boniface (MB) |
| Eglington-Lawrence (ON) | Parkdale – High Park (ON) | London West (ON) |
| | Nipissing Timiskaming (ON) | |
NDP
| | | |
| --- | --- | --- |
| Ottawa Centre | Thunder Bay-Superior North | Sudbury* |
| Edmonton East | Parkdale-High Park* | Davenport |
| Elmwood-Transcona | South Shore-St. Margaret's | Windsor-Tecumseh |
*These ridings are also on the Liberals' List.
Conservative MP Dean Del Mastro has come out claiming the Peterborough (ON) riding was affected as well.
Election Fraud is a serious issue. While it may happen in other countries and while the Conservatives are claiming that it didn't change the outcome in Guelph, there is no reason or excuse to break the fundamental right to democracy which past generations have fought long and hard to get for us. Those who are willing to ignore these sacrifices and take our rights for granted are unworthy of such rights. There is nothing worse than having the right to democratic procedure taken from you through deception which is the equivalent to having ballot boxes stuffed and people with clubs blocking the entrance to the ballot box.
Anyone who is caught disrupting democratic process should be punished under the highest extent of the law. It is already bad enough that four Tory members avoided prison by pleading guilty to the In and Out scandal. Here's hoping that if proven to be guilty of the Robocall scandal that they get the maximum available prison sentence regardless if they plead or are proven guilty. Otherwise, where is the justice and legitimacy of our election system if we give fraudsters a slap on the wrist for such a heinous crime?
Did the Conservatives really win the election? Should we hold a new election?