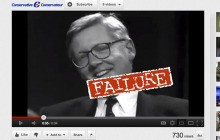 Conservatives Take Aim at Bob Rae
---
With Conservatives claiming Bob Rae isn't ruling out a bid for Liberal Leadership in the 2013 convention, the Conservatives have taken the time and effort to attack him on his record as Premier of Ontario.
Using the same smear tactic that proved successful against former leaders Stephane Dion and Michael Ignatieff, the Conservatives have painted a picture of Rae that is far from flattering.
Stating that Rae had a record of failure, the Conservatives took aim at job losses, income tax hikes and deficits that took place during Rae's time as NDP premier in the province.
The ad finishing asking viewers:
By the time he was done, Premier Rae turned Ontario into the welfare capital of Canada.

Bob Rae: if he failed at running a province, why does he think he can run a country?
Rae's NDP government lasted for one mandate in the middle of two Harris governments which arguably created the mess that Rae inherited and failed to clean up.
Rae isn't sitting idle on the attack, he came out condemning them as "character assassination" and charged that they were an attempt to "change the channel" amid the investigation over allegations of voter fraud in the last election.
"I knew perfectly well what the Tories were going to do," said Rae, who has never announced his intention to become full-time Liberal leader.
"Look, I'm the interim leader, I do take it as a compliment."
Immigration Minister Jason Kenny defended the ads stating, "He is acting like he's the permanent leader, and he has a record that hangs around his neck like a millstone."
"A lot of people don't know, and quite frankly, it's 20 years ago in Ontario. There's a lot of new people in Canada, a lot of younger voters who have no memory of the complete disaster (and) the economic wasteland that was Bob Rae's Ontario."
Conservative Party Spokesman Fred Delorey echoed Baird saying that Rae refuses to deny intentions to run for permanent leadership and "everyone knows he wants to be prime minister."
He added that Conservatives believe that Canadians have the right to know about the leaders they plan to elect. He then further defended his party stating that the Liberals had started a new branding campaign about Bob Rae.
"The Liberal Party has billboards with Bob Rae on them, something that is unprecedented for an interim leader to do. And he's changed the Liberal Party of Canada news releases so that they no longer refer to him as interim leader, but as leader," DeLorey said.
However, unlike when previous Liberal leaders Stephane Dion and Michael Ignatieff came under fire, Rae's Spokesman Daniel Lauzon vowed to fight fire with fire.
"My colleagues at the party will be asking Canadians to contribute financially to our response. The scale of that response will depend on how generous Canadians will be in our appeal to fight back," Rae spokesman Daniel Lauzon said.
While the Liberals are third place in the House of Commons, recent polls show an upward trend for the party and put them as Official Opposition in a Conservative Minority Parliament. However, the Conservatives would rather weaken the Liberals to Strengthen the NDP vote and maintain their seats through vote splitting. Not to mention that there is no better time to attempt to distract everyone over allegations of electoral fraud.