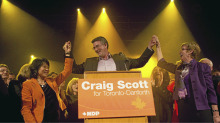 NDP Win Landslide in Toronto-Danforth
---
In a by-election today, Jack Layton's old riding of Toronto-Danforth remained NDP as candidate Craig Scott won 59% of the votes.
Despite being held by Liberal Dennis Mills for 16 years before Layton's take over, the Liberals were unable to regain the seat and despite a lot of invested political capital, stood no chance to the NDP roots that have been built in the riding.
The results show the NDP leading with 59% of the vote and the Liberals following with only 29%.
The NDP victory comes 5 days before the party elects its new leader whom it plans to sell early, before falling into the same branding trap that the Liberals have once again fell into with Conservative tactics.