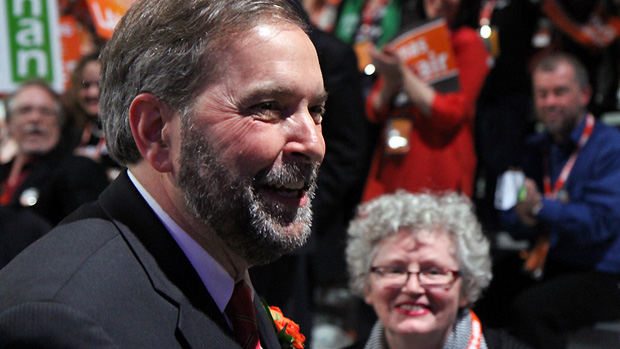 Thomas Mulcair Takes NDP Helm
---
Winning 57% of the votes in the fourth ballot, Thomas Mulcair beats Brian Topp in his bid for NDP leadership.
After a long NDP leadership race and complications in the online voting process, Mulcair set himself ahead of the pack provoking attacks from his opponents who feared he would take the party to center.
Thomas Mulcair says "categorically" he will not try to merge with Liberals. "We want to move centre to us not move to centre" #ndpldr

— Evan Solomon (@evansolomoncbc) March 25, 2012
In his victory speech, he thanked his family and campaign crew and criticized the Harper government.
"We can't ask our fellow citizens to do their part for our country if the government will not do its part for them," Mulcair said.
He then spoke of how Canadians and particularly the youth are active in community groups and advocacy groups but are "so turned off by today's politics that they don't even walk down the street to cast a ballot."
He criticized the current government's message to Canadians that they have to accept less and criticized the fact that this would be the first time where the new generation has a lower standard of living than that of their parents. He added, "Our future is limitless if we get our priorities right."
"The challenge that confronts us is not the failure of ability and talents, it is a failure of leadership and it is a failure that we intend to reverse."
He then spoke about unity stating that there were some leaders that played on peoples fears and strived with division.
"I believe that no matter your political opinion, we all share the same values. We all want to live on safe streets, just like everyone else. Most Conservatives I know still take pride in the fact that as Canadians we care for one another when we get sick.
"From Medicare to public pensions, these values are reflected in the institutions we've built, institutions we risk losing under the policies of this current government."
Mulcair concluded on the thought of unity.
"We will unite progressives, we will unite Canadians, and together we will work towards a more just and a better world."
Mulcair will have his first caucus meeting tomorrow and we will see how he fairs in the House of Commons and in the next election. We will also see if he manages to keep Quebec under his wing.
For those that missed the convention, here is how it played out.
First Round Results
Thomas Mulcair: 30.3%
Brian Topp: 21.4%
Nathan Cullen: 16.4%
Peggy Nash: 12.8%
Paul Dewar: 7.5%
Martin Singh: 5.9%
Niki Ashton: 5.7%
Second Round Results
Thomas Mulcair: 38.3%
Brian Topp: 25.0%
Nathan Cullen: 19.9%
Peggy Nash: 16.8%
Third Round Results
Thomas Mulcair: 43.8%
Brian Topp: 31.6%
Nathan Cullen: 24.6%
Final Round Results
Thomas Mulcair: 57.2%
Brian Topp: 42.8%
How do you think Mulcair will do? Let us know! Facebook,Twitter, Google+.