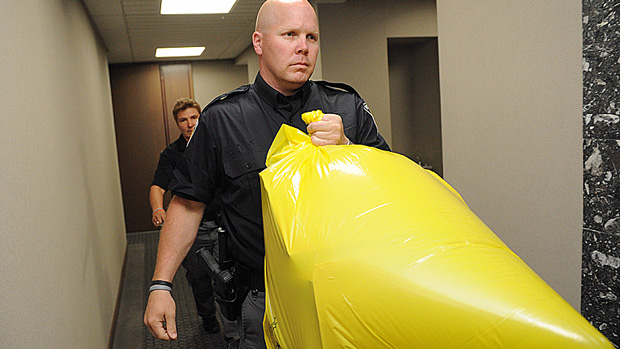 Human Remains Sent to Tory and Grit HQ
---
Conservative Party headquarters made a gruesome discovery yesterday when a package delivered to them contained a severed foot. Police found a second package which was addressed to the Liberal Party Headquarters – this one containing a hand. Police believe the parts came from a body they found in Montreal and there is a nation-wide warrant for Luka Rocco Magnotta's arrest.
"It was such a horrible odor, I'm sure many of us will not forget it," said Conservative Party spokesman Fred DeLorey.
Magnotta (above) also takes the name Eric Clinton Newman, is 29 years old and is believed to have filmed the murders as police have video footage of the victim being dismembered by him. Police have asked for public aid in the finding and arresting of this man.
Montreal police said he knew the victim and has no previous criminal record. However, CBC found that he served 16 days in pre-trial custody after being convicted with 4 counts of fraud in Ontario in 2005. He was given a further 9 month conditional sentence and 12 months of probation.
Police have found him in videos where he killed kittens and are looking into possible connections with Karla Homolka.
A second hand and foot have been found at the same location where the rest of the body was found and police haven't yet identified the victim.
"The most important thing for us is to nab the suspect, and to make sure we don't jeopardize a future trial. I'd have a lot of trouble, as a father, to sleep if that happened," Montreal police Cmdr. Ian Lafrenière said.
The packages were sent via Canada Post and the second package which was enroute to Liberal HQ was found at the Canada Post Terminal at Riverside and Alta Vista drives in south Ottawa.
Major Crimes Staff Sgt. Bruce Pirt said it is possible the foot was sent as a "gruesome message."
Public Safety Minister Vic Toews reacted stating, "It's certainly an unusual development and it's not even insofar as homicides go. It's quite an unusual circumstance."
Liberal MP for Papineau in Montreal, Justin Trudeau said "there's someone sick out there," and said that his constituents no longer feel safe.
Ottawa police said that there are likely more body pieces in the mail but they haven't yet arrived in Ottawa.
"Organized crime generally will keep a low profile. They would never do something like this to bring [attention]," Glenn Woods, a former RCMP officer said. "Their motivation is money. Short of making an example of someone who, for instance, is an informer, I have never seen them get involved in this kind of thing – particularly with a political party."
"To me, when you start sending human body parts, there's got to be some level of mental illness."
This is the true test for our justice system. While some will likely try to argue that Magnotta, if proven to be the guilty party, "is not criminally responsible" due to mental reasons, it is time that we realize that regardless the mental state of the predator, the person should be put in prison for life for the gruesome crime that was committed.
It is already bad enough that Vince Weiguang Li, who beheaded Tim McLean on a Greyhound bus was let out early and McLean's family saw no justice for their lost member.
These people should never see the light of day and we need a justice system that reflects that.
But on a side note, what sort of twisted message was this guy, if actually him responsible, sending? Why send body parts to political party HQ, particularly those of the Conservatives and Liberals?