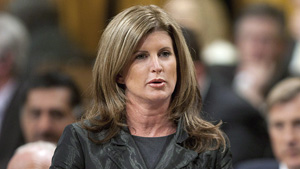 Conservatives fed up with Military Procurement
---
The Conservatives have come under fire over the F35 proposal and in a recent report, the Auditor General told them to do their homework on the costs. Shortly after, Defense Minister Peter Mackay admitted that he mislead Canadians on the cost of the stealth fighters for 2 years.
In a first and emotional moment for Public Works Minister Rona Ambrose, she told military contractors at CANSEC, the annual military trade show, last Thursday, that she was fed up of inter-governmental duplicated processes and said she couldn't guarantee the goods she promised. This means the search-and-rescue planes that have been stuck in the system for nearly a decade may remain stuck in the system once more. Federal documents state that the planes won't be ready and functional until 2017.
"Frankly, when it comes to procurement, I'm a little tired of being told why something can't be done.

I'm also tired of being told I can only get partial buy-in for new ideas because people would rather see things fail first. And I've become tired of all of the duplication and competing agendas.

I am fully aware of all of the internal obstacles to change, but I realize we won't be able to transform the procurement system overnight."

Conservative MP, Public Works Minister Rona Ambrose
However, some defense contractors see the delays and hold ups as the government doing its due diligence.
"From my perspective it sounds like a very reasonable approach," Jim Grant, Vice President of Lockheed Martin's air mobility division said. "If they can move forward that way, it's very smart government."
David Schellenberg, CEO of Cascade, said "all the industry is looking for is a fair, open and transparent process."
These 2 CEOs contradict the Conservative plea that the system is broken – as you saw in Ambrose's statement.
The Liberals attacked the Conservatives, stating that Conservative MPs Rona Ambrose, Peter Mackay and Julian Fantino have yet to testify in the committee.
"Minister Ambrose described a federal government in chaos when it comes to how billions of dollar of taxpayers money is spent on military hardware," Liberal committee member Gerry Byrne said.
"With so much at stake, there is no excuse for either of these ministers to be absent from appearing before the committee."
Do you think Minister Ambrose is justified?