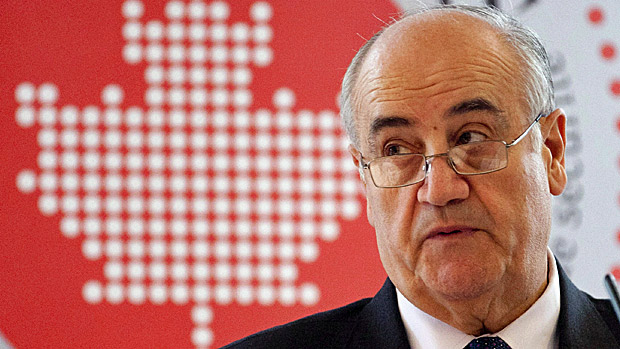 Fantino Defends Funding Homophobic Evangelical Group
---
International Cooperation Minister Julian Fantino is defending $544,813 in federal funding that went to Ontario-based evangelical group Crossroads Christian Communications that describes homosexuality as a perversion and a sin. The group produces television programs and received the money to dig wells, build latrines and promote hygiene awareness in Uganda until 2014.
Fantino tried to cover those tracks by stating that the The Canadian International Development Agency, an agency he adopted after former CIDA minister Bev Oda resigned over a slew of controversy, is responsible for providing funds to organizations working on foreign aid projects and that their religious and political views are irrelevant.
"We fund results-based projects, not organizations," Fantino said. "Projects are delivered without religious content, including this particular project."
A spokeswoman for Fantino added: "The government of Canada has funded projects by this organization since 1999."
Meanwhile, NDP MP Helene Laverdiere said CIDA's funding initiatives are "out of step with Canadians."
"How did Christian Crossroads, an anti-gay organization, get sign-off from the minister to operate in a country which Canada has strongly criticized for persecution of its gay citizens?"
So the question here is: Should an organization's political views determine whether it should get funding? The Conservatives say no, the NDP say yes. Let's take a look at the political situation in Uganda.
The government in Uganda plans to pass a bill that will execute homosexuals and possibly give them the death penalty. Crossroads recently listed homosexuality as a sin.
Stephen Harper once debated same-sex marriage, defining marriage as the "union of one man and one woman" at an anti-gay rally at Parliament Hill in 2005.
Laverdiere stated that the Conservatives have been selective over funding and while groups it doesn't like were cut off, "religious groups that promote their ideology have Conservative connections."
"This is absolutely bogus," Fantino retorted. "Religion has nothing to do with any of that."
NDP Leader Thomas Mulcair attacked Fantino on the grounds that he was defending a group that breaks Canadian laws.
"It's shocking to hear Minister Fantino defending the indefensible, standing up today and defending a group that on its website is attacking something that's recognized and protected by Canadian law."
Laverdiere isn't the only person to express this view, Francois Audet from the Canadian Research Institute on Humanitarian Crisis and Aid said, "I have the clear impression — and I am not the only one in the scientific community — that behind this, there is a deliberate strategy to finance the groups ideologically close to the actual Conservative government."
So is this all a political scheme set by the Conservatives to institutionalize and promote their ideology or is their defense that religion has nothing to do with it valid? Note that in this case, it is questionable how much help an anti-gay organization can be in a country where people are going to be persecuted and put to death for being gay.