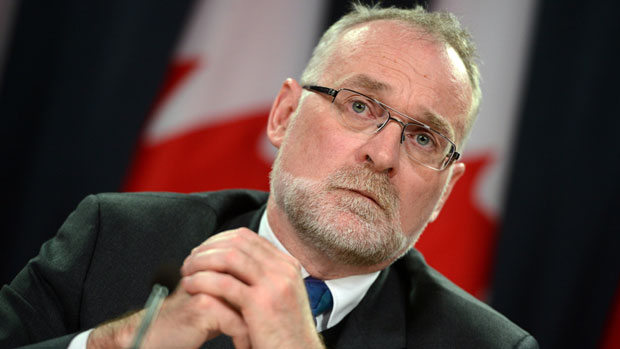 AG: $3.1 Billion on anti-terror spending can't be accounted for
---
Auditor General Michael Ferguson released his annual spring report which found lack of information to be the theme of the Conservatives' program spending. Included in this analysis is $3.1 billion in funding for anti-terrorism which can't be accounted for and off the radar. In times of economic uncertainty and austerity, can the Conservatives really afford to lose $3.1 billion without having it accounted for?
The spring report concluded an evaluation and better tracking of program spending is necessary to make sure taxpayer money is used efficiently. The document contained 11 chapters with a central theme emphasizing a lack of information.
The Public Security and Anti-Terrorism (PSAT) Initiative will need a government wide review after Ferguson found departments had spent $9.8 billion of the allocated $12.9 billion between 2001 and 2009 on security and anti-terrorism measures. The Treasury Board nor the AG could account for where the other $3.1 billion went.
"It's a matter of missing that last link in putting that information together," Ferguson said at a press conference adding that if the money were transfered to another program, it should have been documented.
"We don't have enough information to say whether that happened," he said.
The NDP pounced the Conservatives for mismanagement of taxpayer money.
"It is really scandalous that [the government] can't account for the $3.1 billion," NDP MP Malcolm Allen said.
Treasury Board minister Tony Clement defended his record saying that Parliament was aware of how every nickel and dime was spent.
"All government spending, every nickel and dime is reported to Parliament and accounted for each and every year in the public accounts," he said, adding that he accepts recommendations for clearer documentation and representation of all spending.
The report found other troubling issues with the way the government has been keeping conduct.
The Department of National Defense doesn't always carry through with the required security clearances with individuals and companies who take government contracts.
The Truth and Reconciliation Commission and the government have no plan and haven't been acting to end disputes over the Aboriginals' residential school system.
The Canadian Diabetes Strategy has been mismanaged by Health Canada and the impact of the program is unknown.
The Canada Revenue Agency lost $29 billion in unpaid taxes.
Money going to developmental aid is missing a paper trail and hence its management and results are questionable.
Personnel shortages and old machinery act to hinder search and rescue capacity.
Human Resources has improved on cutting Employment Insurance over-payments but is still millions in the red.
The revealing of mismanagement in the anti-terrorism program come in light of a week filled with discussion on the topic. The Conservatives tried to use the discourse to wedge into Liberal leader Justin Trudeau's support and their attacks backfired and were out of context.
Meanwhile, controversy also surrounds the replacement of aircraft for the search and rescue program. The earliest a contract for new planes will be signed is next year and in the meantime money will be wasted on maintaining and upgrading the current fleet.
MacKay too commented that he will accept recommendations in the report. "The reality is that while the process is underway it has not delivered the aircraft that we need," he said.
"Overall, we found many areas where the government should improve on the results that it achieves with taxpayers' dollars," Ferguson said.
Ferguson cites "significant weaknesses" in program evaluation for misguided decisions that have cost taxpayers. "As a result, decisions have been made about programs and related expenditures with incomplete information on their effectiveness," said Ferguson.
Canada's Human Resources Department hasn't even evaluated their ongoing grant and contribution programs for the next five years.
On Canada's efforts to reduce world poverty, an expense of $5.2 billion, Ferguson said "Decision makers do not have all the information they would need to determine that the conditions in the act are respected." In other words, Canadians spent $5.2 billion on a program that may not even have worked.
The sluggish rate of processing at the Department of Human Resources costs $10 million and is horribly inefficient. This is in the same department that decided to make it more difficult for Canadians to access Employment Insurance, something all workers and bosses pay into to ensure a safety net for those who get laid off.
It is clear mismanagement and a lack of information are costing taxpayers billions per year and in times of economic uncertainty and austerity, the Conservatives have opted for blind cuts behind closed doors. Perhaps if the Conservatives were accountable and did their work properly, they could make cuts in programs based on terms of waste and not on actual services. At this rate, cuts aren't benefiting the economy and waste is still rampant.
Given the Conservatives will try to offload the blame for their mismanagement elsewhere as they usually do, keep in mind that the Conservative Party intends to spend anywhere between $175 to $29,050 of taxpayers money on ads against Liberal leader Justin Trudeau, something that taxpayers shouldn't pay for, rather something the Conservatives should shell out of their own pockets.
Given the Conservatives' lack of accountability and now lack of accounting of over $3.1 billion in anti-terrorism measures alone, how believable are their ads that tout their steady hand? What do you think of Prime Minister Stephen Harper's judgement allowing policy makers to do their work blind and waste billions of taxpayer dollars?