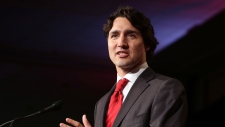 Justin Trudeau takes Liberal Helm
---
The Liberal Leadership race came to a close today. After a week-long voting period, 104,552 ballots were cast, representing 82% of eligible voters for the leadership race. Trudeau has taken 80.1% of those votes and his chief opponent Joyce Murray received 10.2%.
In his victory speech, Trudeau thanked his supporters for their confidence. "My fellow Liberals, it is with great respect for those who have stood in this place before me and great resolve to do the hard work that is required in front of us that I accept with great humility the confidence you have placed in me," he said.
Trudeau attacked divisive politics, stating Canadians are open to change and they are fed up with negative politics.
"We are fed up with leaders who pit Canadians against Canadians. West against East, rich against poor, Quebec against the rest of the country, urban against rural," Trudeau said.
"Canadians are looking to us, my friends. They are giving us a chance, hopeful that the party of Wilfrid Laurier can rediscover its sunny ways."
Trudeau also called for unity within the Liberal Party, calling for the end of hyphenated Liberals.
"It doesn't matter to me if you were a Chretien-Liberal, a Turner-Liberal, a Martin-Liberal or any other kind of Liberal. The era of hyphenated Liberals ends right here, tonight."
Trudeau told fellow Liberals to expect Conservative attacks to begin soon. He fired back stating the Conservatives will attack because they are afraid of an engaged and informed Canadian populace.
The Conservatives started their attack with a statement from spokesman Fred DeLorey. "Justin Trudeau may have a famous last name, but in a time of global economic uncertainty, he doesn't have the judgement or experience to be prime minister." Arguably, Trudeau has more experience today upon taking the helm than Stephen Harper did when he won his leadership race for the Conservative Party in 2004.
While Trudeau may have won in a landslide, here is how the rest of the results carried through. The leadership race saw record voting turnout with 82% of 127,264 eligible voters taking the time to cast a ballot. The Liberals' 104,552 votes cast easily beats Conservative and NDP numbers in their past races. The voting procedure featured a preferential ballot that let voters rank their choices. Each riding was given 100 points which correlated to the percentage of votes each candidate got. These points were then tallied up to reach a total out of 30,800 points. This counting process would have continued until a candidate won 50%+1 of the votes or 15,401 points, redistributing the votes of the last-place candidate to their second choice decisions each time.
Results
| Candidate | Points | Percentage |
| --- | --- | --- |
| Justin Trudeau | 24,668 | 80.1% |
| Joyce Murray | 3,130 | 10.2% |
| Martha Hall Findlay | 1,760 | 5.7% |
| Martin Cauchon | 815 | 2.6% |
| Deborah Coyne | 214 | 0.7% |
| Karen McCrimmon | 210 | 0.7% |
Points needed to win first tally: 15,401
Total Points: 30,800, 100 Per Riding based on percentage of vote.
Votes Cast: 104,552
Eligible Voters: 127,264
Turnout: 82%
The evening also featured speeches from former Prime Minister Jean Chretien and former Interim leader Bob Rae.
Jean Chretien's speech actively mocked the Conservatives and NDP while promoting the idea of a future Liberal government. He mocked the NDP's decision to remove the word 'socialist' from their constitution, mocked Conservative Finance Minister Jim Flaherty for taking credit to an inherited banking system that his leader once opposed and mocked the Quebec separatist parties for trying to hide behind who they are.
"Under a new Liberal leader, the best is yet to come," Chretien said. He later declared: "Today marks the beginning of the end of this Conservative government."
Bob Rae's speech mocked Harper's office as having nothing more than a mirror and a thrown. To an eager crowd, Rae called Harper Canada's "Interim Prime Minister."
Recent polls give the Liberals a 4 point lead over the Conservatives while speculative polls claimed a Trudeau victory could expand that lead by about 10 points. Most of the changes come at the expense to the NDP, who used this weekend to try to move to the center amidst reluctance and resistance from the party's left-wing base.
Justin Trudeau is now the leader of the Liberal Party, what do you think of this result?