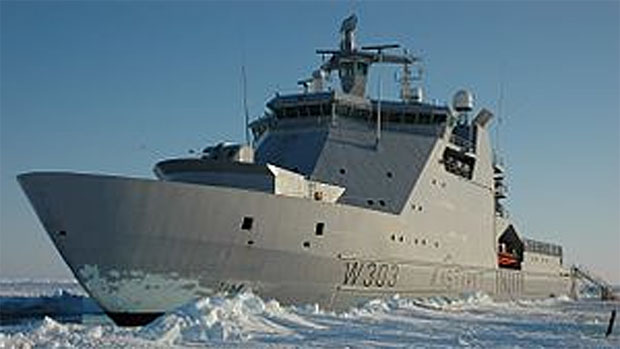 Canada to pay ten times more than other countries for ship design
---
A CBC News Investigation has found Canada will be paying up to ten times more than other countries to design ice-breaker ships for Arctic patrol. The design for the Canadian ship, set to be similar to the Norwegian model will cost $288 million to design while Norway paid less than $100 million to design and build their ships in 2002.
On March 7, Public Works Minister Rona Ambrose and Defence Minister Peter MacKay announced they would pay $288 million to Irving Shipbuilding to design – not build – Canada's new fleet. The same company will the build the ships on a separate contract.
The Canadian ship's design is similar to that of the Norwegian Svalbard which cost $5 million to design and under $100 million to build. Experts pit design as 10-20% of the final production price.
In 2007, Denmark acquired two ships for Arctic exploration for $105 million. The Irish Navy is currently building its fleet for $125 million. Both price-tags include design costs.
Ambrose, MacKay and Canadian officials currently can't explain why Canada is paying so much more for the same ships other countries have bought for three times less.
When CBC journalists contacted Ambrose, she referred them to officials who stated they have no idea where the $288 million is going.
When MacKay was asked, he responded, "other shipyards are wrong."
An official with Iving Shipbuilding who refused to be identified commented on why the design price is "obviously vastly higher" saying, the process "is going badly wrong … [it] will be much more expensive than the F-35 acquisition. It has the potential to be an even bigger fiasco."
Recall the F-35 fiasco rapidly increased in price and at one point costed $35 billion. Remember that other countries only paid at most $125 million for the price of their ships.
Another official from the company said, "the numbers are staggering … There is no rhyme or reason for such a vast amount of money, especially not without clarity." He said a design price of $10-15 million is acceptable but the $288 million taxpayers are shelling out for the project is not. The expert argued that based on the designs of the Svalbard, the needed re-factoring wouldn't cost more than $20 million.
"I have no idea where you find another $200-plus million [just for the design.] That's more than the estimated value of building the ship. As a taxpayer, it doesn't make sense."
Expert with Irving Shipbuilding who preferred to remain Anonymous
Ambrose defended the purchase claiming it would save money later on.
"We are implementing what's called a design and then build strategy," Ambrose said. "What that means is that we are spending more money up front on the design and production phase. That's important because we want to make sure that the shipyards, and the navy, and the coast guard, get the design correct."
MacKay said the cost was higher because the ship was being built in Canada by subsidized industries which would be creating jobs, however, given the outsourcing Canada needs to do just to get the parts because Canadians don't have these skills, it is questionable how many jobs this project will create and whether these jobs are going to be worth what some experts believe to be a scandalous price tag.
The Conservatives have been telling Canadians they can't afford a government that goes out on large spending sprees in times of economic uncertainty and they need a steady hand to keep Canada's economy in good footing. The F-35 fiasco was the first example of gross mismanagement as the price tag raised from a promised $19 billion to over $35 billion and was expected to continue to increase in price and now it looks the shipbuilding project will lead to the same consequence.
What do you think about the fact that designing Canada's new ships will cost more than 10 times more than in other countries? Can the Conservatives still be acclaimed as stewards for a stable economy or did they become the reckless spenders they warned against the opposition about?