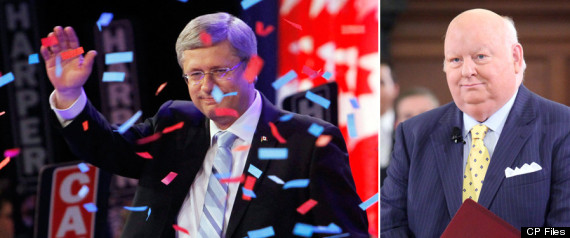 The Duffy Affair: Duffy charging taxpayers on the campaign trail?
---
As if the housing allowance scandal and secretly accepting a $90,172 cheque from the Prime Minister's chief of staff wasn't bad enough, now we learn Conservative Senator Mike Duffy charged Canadians for senate business while he campaigned for the Conservatives in Toronto in April 2011.
Disgraced Conservative senator Mike Duffy has charged the senate for business on two days in April 2011 when he was campaigning with the Conservatives in the Greater Toronto Area.
On April 27 and 28, 2011, the Deloitte audit lists Duffy as in an "other location" while claiming business charges on behalf of the senate.
The Conservative party said they are looking into Duffy's expenses during the campaign but he will remain a Conservative senator.
It is not known what senate business Duffy was conducting during the election period, but senate rules don't prohibit him from working those days.
However, an invoice entitled "Mike Duffy campaigning in the GTA, April 27 & 28, 2011" tracks Duffy flying out of Ottawa on the night of April 27 and staying in a Toronto hotel April 28 and flying back to Ottawa April 29.
The invoice included campaign expenses of Natural Resources Minister Joe Oliver, who won his seat in Eglinton-Lawrence.
Duffy's expenses were also listed in the invoice. It cost him $1,355.56 and "that amount will be divided between the eight ridings that he visited, so each riding will be responsible for $169.45."
After paying off his housing allowance with a $90,172 cheque from Prime Minister Stephen Harper's right hand man and chief of staff Nigel Wright, Duffy refused to cooperate with the audit being conducted by Deloitte and has since remained silent.
However, explanations have been contradictory with Duffy. On February 22, 2013, Duffy said he would repay the amount but insisted he did nothing wrong. A statement from the PMO reveals the announcement came two days after a deal was made between Wright and Duffy – one which Duffy denied when asked by CTV News.
However, his contradictory responses skipped from channel to channel telling CBC on Feburary 22, he and his wife would "voluntarily pay back my living expenses related to the house we have in Ottawa" while telling Global News April 18 that he was waiting on the audit to decide on whether he should repay the expenses.
Duffy isn't the only senator with unmatched business with expense claims during the 2011 campaign, Conservative Senator Pamela Walin is under investigation and the NDP said last February she charged taxpayers $26,000 in travel expenses while appearing at Conservative campaign events.
What do you think of conflicting schedules between Duffy's expense claims and his campaign tour? Do you believe he was charging taxpayers for his campaign expenses?