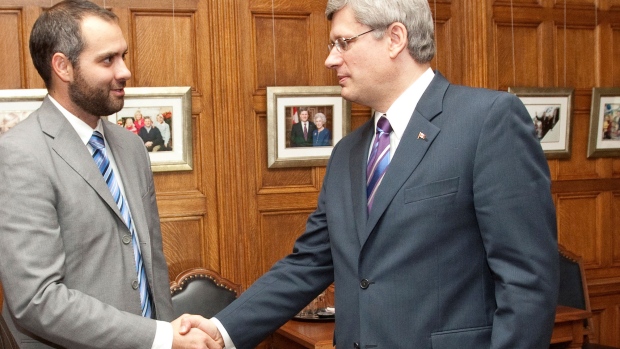 The Duffy Affair: Harper's former legal advisor arranged Wright-Duffy deal
---
Last week we learned a deal was cut between former Chief of Staff Nigel Wright and former Conservative senator Mike Duffy to try to sweep the growing senate scandal under the rug. It turns out Harper's former legal advisor was the pen to the agreement that was made to go easy on Duffy and pay off his $90,172 in inappropriate expense claims.
Sources told CTV, Prime Minister Stephen Harper's former legal advisor, Benjamin Perrin arranged the deal between former chief of staff Nigel Wright and former Conservative senator Mike Duffy. The agreement was intent on paying off Duffy's $90,172 in inappropriate expense claims and have senate investigations go easy on him. Meanwhile, the PMO insists neither Wright or Perrin told Harper about any of it.
While the PMO insists neither Wright or Perrin told Harper about the agreement that took place, they refused to release the letter of the agreement, saying it is in the hands of Ethics Commissioner Mary Dawson. Dawson is investigating the $90,172 cheque Duffy received and the investigation could take over a year to complete.
In April, Perrin left the PMO to return to the University of British Columbia's Faculty of Law as an associate professor. CTV's attempts to contact him last Monday were unsuccessful.
This comes to light as NDP Ethics critic Charlie Angus wrote to the RCMP asking for an investigation.
"Stephen Harper is famous for his control over his government and MPs," said Angus. "And we're expected to believe that [he was unaware that] his chief of staff was negotiating a secret deal to pay off Mr. Duffy?"
If it was impossible to believe Harper didn't know what his right hand man was doing, it becomes even less believeable that he didn't know what his right hand man and legal advisor were doing. The entire case should be given to the RCMP to investigate for criminal activity.
It is worth noting that Patrick Brazeau and Pamela Walin also were Conservative senators and also have to pay back inappropriate expense claims but neither of them were given the bailout Duffy was. If helping Duffy repay $90,172 was "the honourable thing to do" then why weren't the other bills paid as well?
In fact, how is paying a disgraced senator's $90,172 bill an honourable thing to do? Duffy committed fraud and given he was caught and has to repay the amount, he should be held liable for his actions – just like any other Canadian would have been. In fact, the whole matter contradicts Harper's campaign promise of 2006.
"There's going to be a new code on Parliament Hill: bend the rules, you will be punished; break the law, you will be charged; abuse the public trust, you will go to prison. If you behave unethically or dishonestly then do not expect a reward from this Prime Minister of Canada." 
Harper has remained silent on the matter. Any Prime Minister with integrity and innocence would have said something by now, possibly along the lines of we need a public inquiry and anyone who has committed a crime in the senate should be prepared to face the consequences of the law for breeching public trust. But, what did we hear? Nothing.
Once again the Conservatives are having a hard time expressing their innocence – assuming that they did nothing wrong as they say. During the robocall scandal, the common sense action for an innocent government to do is push for a public inquiry – the Conservatives opted to blame the Liberals.
This time, a secret arrangement was made to pay off inappropriate expense claims. Rather than fire the people involved and hand the case to the RCMP, Harper is silent and the people implicated are either silent or contradicting themselves.
How is it possible two of your closest colleges are working on something and you don't know – especially when it is your job to know?
Many questions are floating around and as new pieces of the puzzle arise, we see the puzzle keeps getting bigger and bigger.
Tomorrow Stephen Harper will speak to his caucus before boarding a plane to leave the country for a trade mission. One mustn't expect many answers, but many Conservative MPs, senators, and supporters are in unease. Rather than profess their innocence, once again the Conservatives have shot their public image in the foot. Which leaves one question: what do they have to hide?
Do you believe that Harper was left in the dark? What do you think of the government's handling of the affair? Have they acted like they are innocent or like they're trying to hide something?