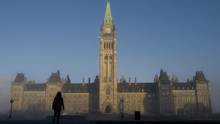 MPs increase their travel budgets and salaries
---
On March 25, the Commons Board of Internal Economy decided to give MPs a pay increase and larger travel allowance. MPs will be getting a 1.6% raise while also receiving 6.7% more money for their travel allowances. The changes were only made public Thursday when it was tabled in the House of Commons. In a time of economic uncertainty and a focus on reducing deficits, increasing MP salaries and travel allowances proves to be reckless and irresponsible.
As of April 1, MPs' accounts rose $1,762 to $28,000 per year. The account can be used by MPs to declare expenses for spending such as accommodation, meals, internet, cable TV, utilities, parking and travel-related expenses.
MP salaries are now $160,200 per year, up from $157,731 per year, the first increase in three years. Most Canadians wouldn't make this much, or have these perks, some, haven't seen a raise in a while and this one is being paid for by them.
The increases come amid a war over secrecy where every party has been negatively implicated. The Conservatives have several MPs and senators who have abused taxpayers' trust, as have the Liberals and recently, the NDP rejected calls to become transparent themselves.
Senators also got a pay increase, $135,200 per year, up from $132,300 last year.
NDP MP Nicole Turmel, a spokesperson for the board, thinks Canadians will be understanding of these hikes. She also stated the board cut other costs like printing. Meanwhile, she expressed her understanding Canadians are entitled to more transparency.
Conservative Government Whip Gordon O'Connor is the other board spokesperson and he refused to comment.
The Canadian Taxpayers Federation is up in arms over the increase, noting it is much more than inflation and the government's overall increase in expenditure.
"When the government itself is mandating austerity, in a secret meeting, these politicians decide to give themselves a raise and we don't find out about it for almost three months," Gregory Thomas, director of the taxpayers federation said. "This is another illustration that the expense control systems in Parliament are broken beyond repair."
For the first time, the board took a step towards transparency, publishing the minutes of the meeting online. Previously, when minutes were tables in the Commons, people would need to make a request in order to see them.
Despite the Board's attempts to become transparent, they are still hiding quite a bit. For instance, April 22's "security" notes are described as "The Board took note of a document regarding a security matter."
What do you think of the increases in MP spending and salaries in times of austerity? Do you think Turmel is right by expecting Canadians to be understanding? If you had the decision, would you increase, freeze or decrease their salaries and spending?