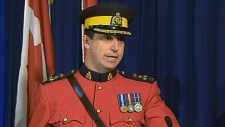 The Duffy Affair: RCMP won't make decision public
---
The RCMP announced it is looking into whether it will launch a criminal investigation into the Duffy affair but added it will not make such a decision public. Assistant Commissioner of the new National Division Gilles Michaud said they are is looking at the evidence it has obtained and insists it will resist pressure from Public Safety Minister Vic Toews who was mandated to monitor and regulate its activities.
"We've started to meet with some potential witnesses and we have reviewed some documents," Michaud, told reporters Monday.
"We have received some documents from the Senate that have been very useful in bringing us along in our assessment around conducting a criminal investigation or not."
Michaud wouldn't say what the timeline of what an investigation would look like but said a decision to launch a criminal investigation will not be made public.
Michaud dismissed concerns that political interference may hinder the authenticity of any conclusions the RCMP makes saying there are "no concerns."
"The RCMP has full independence around the carriage of its criminal operations," he said.
The RCMP responded to a letter from NDP ethics critic Charlie Angus asking for an investigation into the $90,172 transfer from former chief of staff Nigel Wright to then-Conservative senator Mike Duffy.
"What the RCMP have confirmed is that they are looking into the issue now of the $90,000 payment from Nigel Wright to Senator Duffy," Angus told reporters on Monday. "That's a significant piece of what we've asked for because we have concerns whether or not this deal was illegal. If the RCMP is looking into the prime minister's office we believe that's a major step."
But just how independent can an RCMP investigation be if its actions are mandated and screened by a government minister? We have seen the Conservatives interfere with other investigations into the spending, particularly when the Internal Economy committee released a whitewashed version of the Deloitte audit into senators' housing and travel expenses. If the Conservatives are able to interfere with their majority in the internal economics committee, who says Toews won't interfere with the RCMP investigation? Given that the investigation will be made behind closed doors, like the initial whitewash of the audit was, who's to say the government won't opt to use Toews's oversight on the RCMP to write the investigation as it goes along?
The integrity of Canada's democratic institutions have been compromised and the Conservative government we entrusted to ensure a culture of accountability has been reluctant to answer questions, let alone take the proper and decisive actions needed to ensure the law is upheld as they promised. Clearly it is time for a public inquiry and a government that is as innocent as it claims wouldn't be dancing tai chi with alternative fragmented investigations that lead to political interference or limited scope. What do you think of the RCMP's role in investigating the Duffy affair? Does Toews's oversight potentially lead to a worrisome conflict of interest due to political interference? Should the investigation be made public?