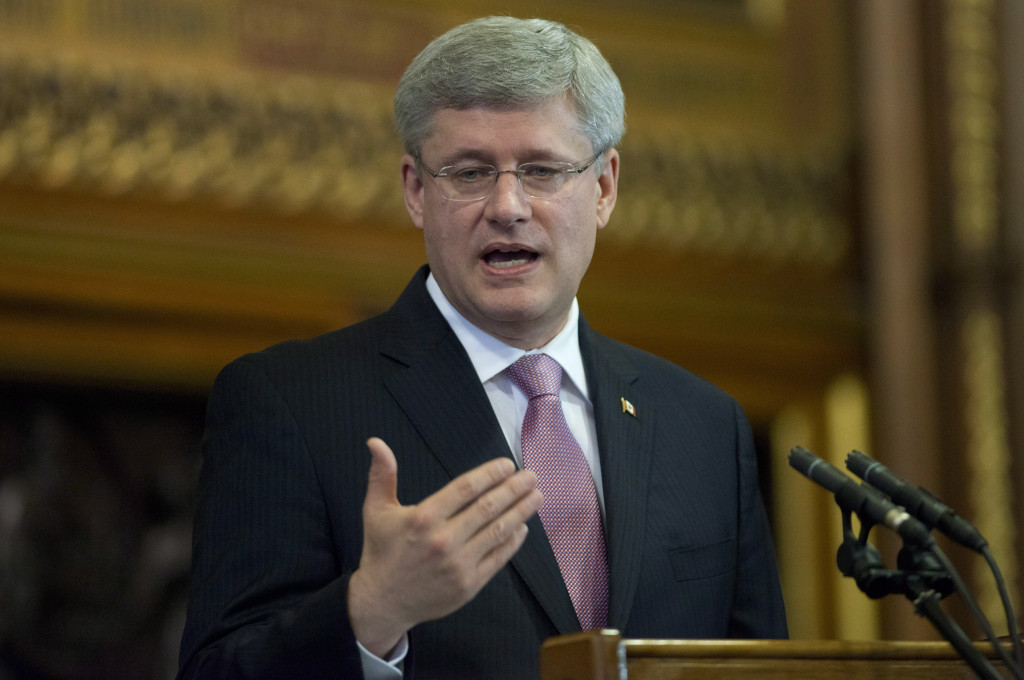 UK Labour MP: Harper's Speech was "not prime ministerial"
---
Prime Minister Stephen Harper went to Europe to hammer out an EU-Canada free trade agreement and to escape the growing scandals that have plagued his government. However, when Harper went to speak to the British Parliament, he was not only met with protests, British parliamentarians were unimpressed with his speech.
Labour's shadow foreign and commonwealth affairs critic John Spellar said Harper's address was "distinctly partisan," and sounded like "a meeting of the parliamentary Conservative party."
He noted Harper's statements towards British Prime Minister David Cameron where he said the "determined efforts and your wise and principled leadership during these last few years as we have dealt with the difficult and critical issues facing our countries and the world issues which require the best of what has always made Britain unique and strong, and which you have plainly demonstrated."
"Saying how wonderful Margaret Thatcher is – he might have noticed that this was a controversial issue," Spellar said Friday. "Now, of course he's a conservative, but throughout the speech to be obsessing about how only Conservatives had the answer and therefore he and David Cameron were the right people, is not the way to do it."
Spellar continued and said Harper's speech was "not prime ministerial" and that much of the Labour caucus expressed how "disappointed they were" with Harper's address.
"All of these are common issues, certainly here between parties. They would be agreed issues," he said. "That's what makes it sort of slightly concerning when someone just seeks to make that a narrow, short-sighted partisan issue."
Spellar has held is seat in UK parliament since 1992, serving as the minister of defence and transport in former Labour governments.
Spellar also noted a stark difference between Harper's address and those of former Prime Ministers Jean Chretien and Paul Martin.
"Canadian prime ministers in the past have had that broader perspective, so it's not a case of saying 'Here's someone from Canada, they're bound to be parochial'. That's not the case at all," he said. "It is that someone's really not speaking for Canada, which is a G8 member, a G20 member, a major player in international affairs. And this wasn't a speech from a big figure from a big country."
Harper left the UK to tour Europe, but during his stay in Britain, he was met with protesters who are very well informed of controversial events that have taken place in Canada in the past few years.
What do you think of British response to Harper's visit? How has Harper's image impacted Canada on the world stage?