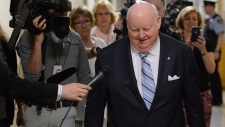 Document: Conservative Party wanted to repay Duffy's expenses
---
A new document reveals the Conservative party wanted to pay disgraced senator Mike Duffy's owing in a bid to cover up his scandal. The documents obtained by the RCMP and obtained by CTV show the Conservative Party would have cut the $90,000 cheque former Chief of Staff Nigel Wright did.
Sworn affidavits in the Ontario Court of Justice in Ottawa show Cpl Greg Horton alleges Duffy broke the law when he accepted "an advantage or benefit of money ($90,124.27) from Nigel Wright."
The documents reveal two RCMP officers discussed the repercussions of the cheque with Wright on June 19.
According to the documents, lawyers said the Conservative Party was planning to repay the illegal expenses.
"The Conservative Party was initially going to repay the money for Duffy from a Conservative fund, when it was believed that the amount he owed was approximately $32,000," the documents read.
However, while the Conservatives intended on paying the amount, when Conservative Senator Irving Gerstein saw the price tag, lawyers told the RCMP, "It was too much money to ask the Conservative Party to cover."
Wright then opted to pay the cheque on two conditions: "pay back the money right away" and "stop talking to the media about it."
Lawyers say Wright repaid the costs "believing it was the proper ethical decision that taxpayers not be out that amount of money." The document said that Wright "did not expect the money to be reimbursed" by Duffy.
The document alleges Harper's former legal advisor Benjamin Perrin along with two other people inside the PMO were aware of the deal.
In May, Perrin was approached on his involvement and said, "I was not consulted on, and did not participate in, Nigel Wright's decision to write a personal cheque to reimburse Senator Duffy's expenses."
Wright's lawyer insists Harper was unaware of the dealing and the RCMP haven't yet made "a decision on whether to interview Wright as a suspect or witness."
The RCMP also noted the sanitized report two months later.
"The final Senate report … relating to Duffy's expenses was less critical than the original draft report, which is consistent with the purported deal between Duffy and Wright," the RCMP investigator report wrote.
"I believe there was an agreement between Duffy and Write involving repayment of the $90,000 and a Senate Report that would not be critical of him, constituting an offence of Frauds on the Government."
What do you think of the new revelations showing the Conservatives wanted to write the cheque? With the knowledge spanning so widely around Harper's office and party, do you believe he was left in the dark?