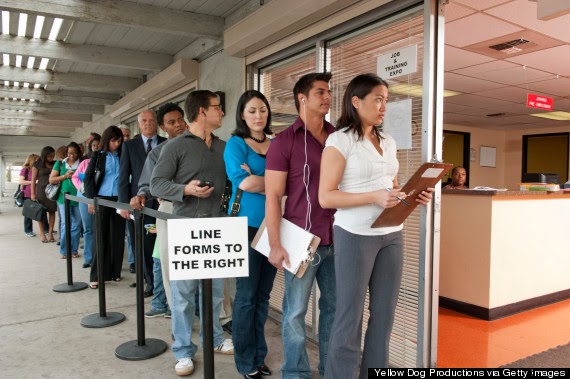 Worst Job Growth in a Decade: An Economic Recovery?
---
Some economists are raising red flags on the topic of the economy which has been dear to the Conservatives' electoral strategy. Job creation has been the weakest in a decade for a non-recession year and the low quality of these limited jobs are cause for concern. If that isn't enough, the national deficit ticked $1.3 billion upward this year.
BMO Economist Benjamin Reitzes observed from StatsCan data earlier this month that Canada created fewer than 175,000 net jobs this year prior to December while the unemployment rate holds steady at 6.9%.
"Compared to November 2012, employment is up a meagre 1%, with both the goods and services sectors clocking in at that pace," he wrote, adding "this is hardly the stuff of a firm underlying economy."
Last year, Canada saw average job growth of 25,400 jobs per month, but this year, the Globe and Mail reports the country only produced a little more than half that, an average of 13,400 jobs per month – well below the estimated 17,000 jobs per month needed to account for population growth.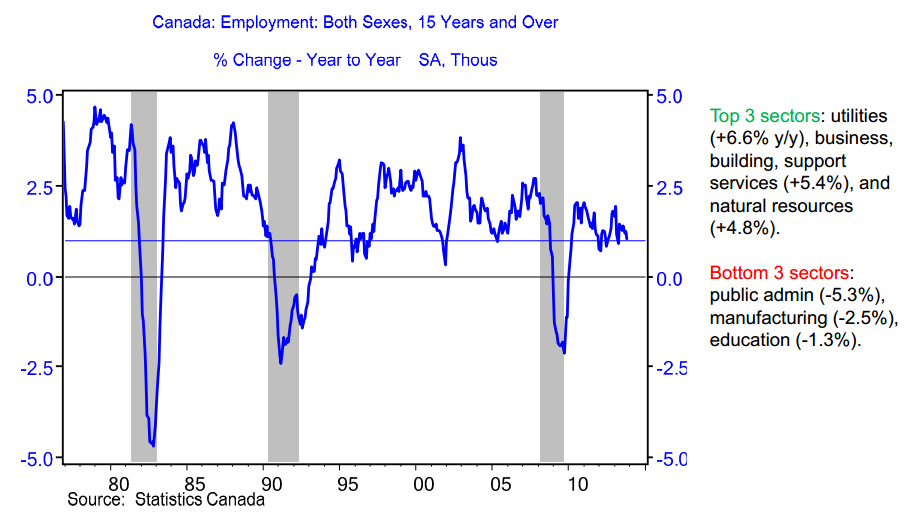 The outlook doesn't get any better when Erin Weir, an economist for the United Steelworkers, breaks down the numbers for November, noting that of the 20,000 of the 22,000 (or 91%) jobs created in November were part time.
"Broken down another way, 19,000 of the employment increase were people reporting themselves as self-employed," Weir writes. "Canadian employers actually hired fewer than 3,000 [net] additional employees last month."
Left-leaning think tank Canadian Centre for Policy Alternatives estimates another 280,000 jobs need to be created to recover from the recession of 2009. They argue that 1.3 million jobs needed to be created but since the meltdown, only 1 million have been. It also noted a slight increase in temporary employment, noting that with 13.7% of Canadians in temporary jobs, Canada ranks 17th out of 28 OECD countries in this regard.
The unspectacular recovery has left BMO at a wait-and-see approach, forgetting about raising its benchmark interest rate and instead leaving it as it's been since 2010 and some economists think it could fall further. The pessimistic outlook follows the fastest GDP growth in 2 years in the third quarter.
In addition, TD Bank economists note a "slump" in corporate Canada, adversely affecting hiring prospects as they've posted low profits for the past year and a half.
To date, Canada's economy has relied on real estate and consumer spending.
"We are going to eventually get this rotation toward exports and business investment and away from real estate and consumer spending. We said that would happen in 2013. It didn't happen. Now we're saying it is going to start next year," TD Bank's Chief Economist Craig Alexander said.
This would lead to about 2.3% growth for 2014 after 2 years of sluggish 1.7% growth. This, while important, won't lead to a significant increase in new jobs or incomes.
Bank of Canada governor Stephen Poloz admitted Canada's recovery wasn't natural, meaning it isn't self-sustaining or self-generating. Strip away the stimulus measures and Canada would likely still be in recession.
"Part of the reason Canada hasn't seen the lift in capital business spending is because the rest of the world has disappointed us," CIBC chief economist Avery Shenfeld said.
"Interest rates have been low, financing has been available, but unless you are sure the product demand is going to be there, it's hard to trigger a boom in capital spending. So a brighter global economy could see a return in capital spending in the resource in sector, which is part of that rotation that's been missing."
While a US recovery is sparking optimism among economists, Alexander notes a more competitive manufacturing industry in the United States driven by right-to-work states, lower labor costs, lower gas costs, and a shale gas revolution are making life more difficult for Canadian exporters.
"And we've had really strong productivity growth in the U.S.," Alexander added. "So U.S. manufacturing is far more competitive than it was before and that makes it much tougher for Canadian exporters."
Joining Alexander in his pessimistic view of economic growth next year in relation to this year's sluggish results is David Madani, the chief analyst at Capital Economics who says that even if the composition of the economy is healthier, Canadians shouldn't expect any better results.
With household debt at record levels – 164% of after-tax income – and overbuild of new housing units and condos, a slowdown in the construction industry and less consumer spending should be expected.
"So you have a situation where weakness in housing and slower household consumption growth is now offsetting the improvement in exports and perhaps business investment," Madani says.
Amid the mixed review for next year's economic growth, the pessimistic forecast would see sluggish job growth on a year that is scheduled to have more austerity as federal and provincial governments attempt to balance the books, something Reitzes says hasn't helped the sluggish job numbers.
"With the federal government and most provinces still looking to balance the books, don't expect a comeback anytime soon," he said, adding about 51,600 public sector jobs were lost this year.
The quest to balance the books hasn't been working too well for the Conservatives this year. While not a disaster, it isn't good news to see a deficit climb $1.3 billion this year. Canada's deficit will be $13.2 billion in comparison to $11.9 billion this year. The federal government maintains that it will run a $3.7 billion surplus by 2015 – a far cry from the $13 billion surplus they inherited in 2006 from Paul Martin's Liberals.
In addition, the handling of certain federal departments such as the Department of Defense hasn't been the most prudent and an overhaul could go a long way to improving efficiency and services. Fiscal mismanagement is easily to blame for some of the internal decisions infuriating current and past generals and military officials. Fiscal mismanagement is also to blame for Canada Post's short-coming leading to an end to home delivery of mail while its CEO shamelessly accepts a salary of $500,000 and a bonus of 30% while sitting on a board with 22 vice presidents.
The numbers, however, are clear. Canada's job growth is the worst in a decade but the government needs to downsize staff where they are not needed. However, at the same time, it is clear that more can be done to promote economic growth that doesn't restrict today's jobs to low quality temporary ones that will inevitably disappear and leave the Canadian economy in another tough spot and require the government as a crutch.
The job numbers aren't good news for the Conservatives, who would rather talk about the economy than the ongoing senate scandal. Given the results, perhaps the senate scandal will be easier to talk about if the economy is the main priority in 2015.
What do you think of Canada's job numbers this year?