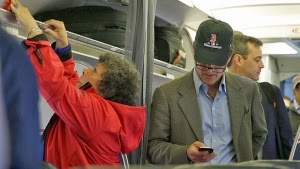 Using free airport wifi? CSEC may be watching you
---
Following Snowden documents revealing metadata was collected from thousands of Canadians during a two week period through the free wifi at an airport, Canada's security experts demand answers and government officials are defending the legality of the act.
The government that touts itself for its "small government" and increasing individual liberties by dismantling of the long form census and the long gun registry are ironically responsible for the intrusive nature of the Communications Security Establishment Canada (CSEC).
On November 21, 2011, then-Defence Minister Peter MacKay signed a ministerial directive to dodge scrutiny in the House of Commons as he reinstated a spying program introduced by the Liberals in 2005 – and was put aside because of concerns it would enable warrantless surveillance of Canadians. Under the Anti-Terrorism Act, CSEC, an arm of the Defence ministry, is the only agency that can eavesdrop on people's lives.
Top secret documents released by Edward Snowden and obtained by CBC reveal CSEC may have been engaging in warrantless surveillance of Canadians. Using one of Canada's major airport's free wifi service, CSEC has managed to get the metadata of thousands of wireless devices enabling tracking beyond that visit to the airport to other airports, hotels, coffee shops and restaurants, libraries, ground transportation hubs, and over thousands of places containing public wifi "hotspots."
No one is denying this happened, instead CSEC chief John Forster stated, "I can tell you that we do not target Canadians at home or abroad in our foreign intelligence activities, nor do we target anyone in Canada.
"In fact, it's prohibited by law. Protecting the privacy of Canadians is our most important principle."
CSEC maintains it's "mandated to collect foreign signals intelligence to protect Canada and Canadians. And in order to fulfill that key foreign intelligence role for the country, CSEC is legally authorized to collect and analyze metadata."
Metadata doesn't reveal the content of communications but it does reveal significant data about the communications including incoming and outgoing phone numbers and the location of the tracked device at each communication. "No Canadian communications were (or are) targeted, collected or used," the agency says in its argument that collecting metadata isn't intrusive because it doesn't collect the actual data. However, Ontario's Privacy Commissioner Ann Cavoukian begs to differ on the matter.
Cavoukian wants to see an independent body set up to oversee CSEC to prevent the breaches that have been seen by the NSA south of the border. "This is deadly for privacy, because invariably we're talking about defending public safety and security," she said, challenging the idea that the iPhone and Facebook age would inevitably lead to more surveillance as "utter nonsense … It is a myth that is being created and perpetrated by those who would like that world to achieve superiority, and have information about everyone."
"Without privacy you cannot have freedom," she added. "What freedom means is you're free. Your stuff's not captured for potential use down the road, and linking back to you, and finding out what you were doing when and who you are connected to."
She argues that CSEC's oversight, the current independent commissioner Jean-Pierre Plouffe, isn't adequate as the commission "is not an independent oversight agency. He reports to the minister of national defence, who is part of the government. He doesn't report to Parliament, which consists of all political parties. He reports directly to the head of the agency that he might be criticizing."
Ronald Deibert, head of the world-renowned Citizen Lab cyber research program at the University of Toronto's Munk School of Global Affairs, calls the collection of metadata the "indiscriminate collection and analysis of Canadians' communications data," and said, "I can't see any circumstance in which this would not be unlawful, under current Canadian law, under our Charter, under CSEC's mandates."
The Conservatives, meanwhile, argue CSEC's actions were legal and Prime Minister Stephen Harper's national security adviser, Stephen Rigby said he is "not totally persuaded" that the airport's wifi was even tapped.
"I think that the document that has been released clearly indicates that there has been collection of metadata," Rigby said. "That is a well-known fact.… It does not represent a compromise of private communications by Canadians. It's data about data," making it "well within the legal parameters" of agency operations, he said.
Liberal leader Justin Trudeau launched a campaign to protect Canadians' privacy and the both the Liberals and NDP intend to use opposition day to respond to recent Snowden documents.
The Conservatives have a history with spy legislation. The most notable one is Bill C-30 which wanted to allow the RCMP to act warrantlessly on citizens who committed crimes online. Then-Public Safety Minister Vic Toews challenged Liberal MP Francis Scarpaleggia saying "he can either stand with us or with the child pornographers." However, when Vic Toew's dirty secrets of his divorce hit the mainstream, he wasn't nearly as thrilled as Canadians were at the prospect of his spying legislation.
Are you concerned about the increasing presence of the Canadian spy agency and the Harper government in our daily lives?