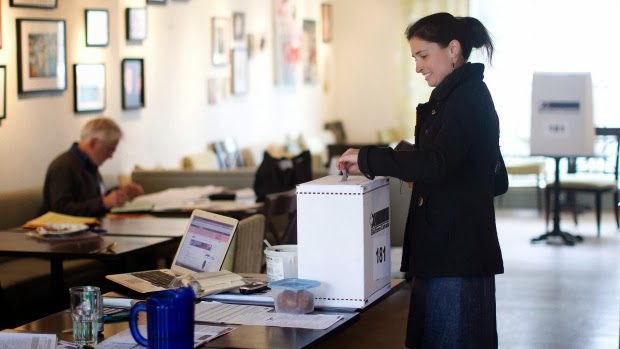 The dangerous Conservative war on Elections Canada
---
A majority of Canadians (62% according to a recent Angus Reid poll) rightfully believe the recent Fair Elections Act proposal shows "the Conservative government is motivated politically and dislikes Elections Canada."
Conservative proposed changes to the Elections Act threaten the fair foundation of our democracy. The Fair Elections Act, proposed by Democratic Reform Minister Pierre Poilievre gives incumbents unprecedented new powers, strips Elections Canada of its teeth, increases donation limits and brings in voter ID rules American lawyers warn could be a recipe for disaster. The bill also mutes the electoral officer, who now cannot promote elections to the Canadian public. Overall, this is a bill manufactured to aid the Conservatives in the next election – like the addition of 30 new ridings where 22 of which turned Tory-blue upon creation.
In 2011, over 200 ridings across Canada were struck by unusual electoral behaviour. People registered as non-Conservatives got phone calls attempting to redirect their polling booths. One Conservative staffer, Michael Sona, has already been charged under the Elections Act and investigations are ongoing in several ridings across the country. The robocall scandal exposed in 2012 is not the first Conservative run-in with the law. In 2006, the Tories came under fire for an in-and-out money exchange scheme used to dodge fundraising rules and in the 2008 and 2011 elections, Conservative MPs like Dean Del Mastro, Shelly Glover, and a list of others came under fire for overspending.
The people with the pen are the people with a track record of deceit and electoral mischief and if any further news comes of the robocall scandal, perhaps even fraud and voter suppression. The Fair Elections Act has opposition MPs and legal experts in Canada and the US standing on ends warning it could have negative repercussions on democracy in Canada.
One of the lawyers that shot down new voter ID laws in Pennsylvania last month, Witold Walczak, says Harper's electoral reforms will inevitably deprive voters from their right to vote. The warning comes from a country where voter rights are a delicate issue and where studies into voter ID laws have shown decreases in turnout among the young, the poor, and minorities – a vast majority of which are non-Conservative voters. The bill wouldn't go as far as recent legislation in the United States that wanted to limit valid ID to transportation licenses that are to be issued by the Transport Department (clearly not free or eligible to everyone) but it would end the practice of voter vouching and prohibit the use of voter cards as valid identity. While these changes seem minor and prevent duplicate voting, Walczak asks if the amount of fraud that will be prevented by this change will actually be greater than the number of Canadians who are turned away from the ballot box?
"They're going to show up on election day — having every right to vote, meeting all of your constitutional requirements, but not knowing that they have to bring an ID," Walczak said.
"They show up, they wait in line, they get to the front and hear, 'Sorry, you can't vote, you've gotta go home.' And then that person says, 'Ah, screw it, I don't have time."'
In Pennsylvania, Walczak says the government wasn't able to prove voter fraud that could be prevented with limiting voter's rights. Canada's Chief Electoral Officer Marc Mayrand estimates more than 100,000 Canadians will be affected by this change. Voter ID laws are more controversial in the United States where they've been used to deny African-Americans and ethnic minorities the right to vote in the past.
The changes prompted questions to Poilievre's office about whether the Fair Elections Act was inspired by American law and if any of their information was used to draft the act. Poilievre's office met the questions with little response: "When drafting the legislation, the minister was very fortunate to have such a wealth of information from our electoral agency."
Mayrand has his own concerns about the bill, stating "Electors still have a challenge producing proper identification at the polls."
"Groups that come to mind are aboriginals, young people, even seniors, who are increasing in terms of population and have increasing difficulty producing proper ID documents."
Mayrand is also concerned about its failure to give Elections Canada more oversight and the fact he would be effectively muzzled by restrictions on what he is allowed to say to the Canadian public.
"What worries me, I must say, is whether the commissioner will get the tool box he needs to do his job and I'm afraid that I don't see it in the act that is currently written," Mayrand said.
"There is no enhancement of transparency of political parties in the new legislation. I believe the commissioner doesn't get the authority to compel witnesses."
These concerns are shared by former Reform Party Leader Preston Manning who helped Harper build the base he has today.
The bill would not only strip the referee of its whistle and potentially subtly restrict more than 100,000 Canadians – who are likely to not vote Conservative in 2015, the bill would grant new powers to incumbents.
BC's former Chief Electoral Officer Harry Neufeld, who also wrote a recommendation report for Elections Canada based on the 2011 election, warns that giving incumbent candidates or incumbent parties the power to appoint polling supervisors would lead to more abuse in the next election. In 161 of Canada's ridings, the Conservatives would be the referees to their own re-election campaigns. In past elections, Elections Canada appointed neutral returning officers to each riding.
"It's completely inappropriate in a democracy," said Neufeld, who argues the bill is worrisome since staff at polling stations responsible for more than 500 "serious administrative errors per electoral district" in the 2011 election are often "making them for partisan reasons."
The bill would increase allowable campaign donations per person per year by $25 after setting the rate to $1,500 from $1,200 now – a move that is expected to aid Conservative coffers.
Parties' Fundraising in 2013
Conservatives raised $22,392,340.55
Liberals: $12,085,529.05
NDP: $8,211,725.47
Greens: $2,214,917.40
Bloc Quebecois: $552,825.86
Overall, the Fair Elections Act doesn't appear to be fair at all. It doesn't address the robocall scandal, instead it prohibits Elections Canada from talking about it. As legal experts have concluded, new voter ID rules could limit some of the most vulnerable Canadians' access to the polls. Granting incumbents and incumbent parties control over polling station oversight tilts the balance in favour of the incumbent and with over 500 "serious administrative errors per electoral district" being committed in 2011, who's to say that number won't increase in 2015 based on politically driven elections oversight?
The Conservatives claim Elections Canada is biased against them and have since 2006 when they came under fire for the in-and-out scandal. The Conservatives have routinely defied the wishes of Elections Canada with an attitude that pits them above electoral law. In 2008 and 2011, Conservative MPs were caught exceeding campaign limits and in 2011, attempts at voter suppression lead to one of the biggest electoral scandals of our time. One Conservative staffer has already been charged and in hundreds of ridings across the country, the investigations are still ongoing in what was a targeted blitz on non-Conservative voters through illegal and misleading robocalls.
It is clear the Fair Elections Act is nothing more than continued effort in the dangerous Conservative war against Elections Canada, a view over 62% of Canadians share when learning more about Bill C-23. This war won't help the Conservatives' image when some of the changes clearly give them an advantage in 2015 and when they are being called "serial cheaters" by the Official Opposition. What do you think of the Fair Elections Act?