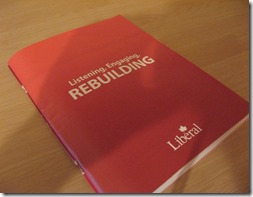 Liberals Lay Framework for Bold New Red
---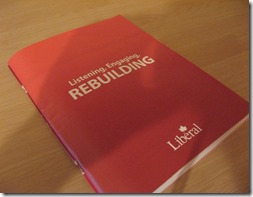 While skeptics fought a reasoned fight against some of the Liberal Party's new constitutional amendments, the party voted with sufficient numbers to pass some of former President Alfred App's controversial departure gifts. In doing so, they also took a stab at new policy conventions and voted for a "Bold New Red."
The Liberal Party is far from dead. The Ottawa Convention Center was filled to a point that walking across some hallways and getting places within the large complex proved difficult. Over 3,200 Liberal members took the floor, more delegates than the Conservatives and NDP combined. Within the surge, a noticeable youth presence, with a strong movement for interparty change.
The race was said to be close for Liberal presidency and after 3 recounts the Liberals crowned Mike Crawley victorious over main contender, Sheila Copps, by only 26 votes. After the large push for change and new innovation the night before, it is no surprise that the "bold new red" took the helm.
Policy and strategy was debated in miniature workshops and by the end, resolutions were put to vote on day 3. The workshops in the Critics corner were overfilled and featured open-mike discussions on Healthcare, Science funding, Justice, the Environment, and Government Accountability among other topics.
Of the multiple resolutions debated in Canada Hall, Abolishing the monarchy was rejected, but legalizing marijuana got 77% of the yes vote.
Many Proportional Representation activists hit the opposition mikes but 73% voted for a preferential vote system which looks strikingly similar to Alternative Vote in Britain.
In terms of the Liberal constitution, people can now sign up to be Liberal "supporters" which is a dumbed down membership which is free and limited to those 18 years and over. Age and powers to vote on the next leader were main concerns, among relevance and practicality of the idea. An Alberta delegate who argued against the movement noted that the initiative had failed in the province and had higher costs.
The primaries idea for Liberal leadership fell flat and the race is set for next year.
The amendments to the constitution lead to confusion and some delegates pushed to have some amendments revised and reconsidered. None of the amendments could be amended on the floor but the party generally voted within healthy motions.
With a new president, and the passing of some controversial ideas within the party's structure and policy, what do you think comes next? Are they headed in the right direction? Or has the sense of need for change overwhelmed their sense of rational thought?