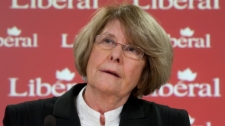 Quebec NDP MP Crosses Over to Liberals
---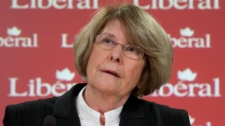 Quebec NDP MP Lise St-Denis crossed over to the Liberals citing the party's pragmatism and her belief that their values are the best suited for her people. With this drift, the Liberals gain a seat to make 35 in the House of Commons at the expense of the NDP who now have 102.
"I am in the Liberal Party because its direction on social policy, on job creation, on external affairs and on the environment appears to me as being able to generate hope for all people living in communities in my riding.

We live in a time of fundamental transformation, globally and nationally. It is thus crucial that we make choices that will undoubtedly protect who we are and who we want to be."

Lise St-Denis, Press Conference, January 10, 2012
Her message to supporters in her Quebec riding of St-Maurice-Champlain which was one of the 59 Quebec ridings that turned NDP in the Orange Wave is to understand her decision.
"They voted for Jack Layton. Jack Layton is dead," Ms. St-Denis said.
Before joining the Liberal party, she backed Thomas Mulcair for NDP leader, the most centrist and pragmatic NDPer in the crowd.
The NDP, meantime, fought back with every nasty tactic they had in their arsenal, showing just how power hungry they actually are.
They called her move a lack of respect to democracy, and party insiders didn't have anything good to say about her character either.
"They say Ms. St-Denis was a difficult, almost impossible person to work with," CTV's political correspondent Bob Fife said, relating the NDP's standpoint that, "This is not a coup for the Liberal Party."
This move is significant as it is very early in the game and the NDP are not only losing massive amounts of support in Quebec, but one of their members moved to the Liberals. As a bit of background, the Liberals are the party that the NDP fought long and hard to destroy. During what some NDPers call a "bittersweet" election the NDP joined the Conservatives in an attempt to finish off the Liberals at the expense of a Tory majority government with an NDP opposition.
Let us not forget that St-Denis is a free woman and has been handed the duty of representing her constituents and the responsibility of making their best interests her priority and this, NDP, should be across party lines. The fact that the NDP would make such a big fuss about the matter only demonstrates how little they care about the constituents they represent and want to impose a radical left-wing ideology upon and how much they care about forming the next government – which with their attitudes, may never happen.