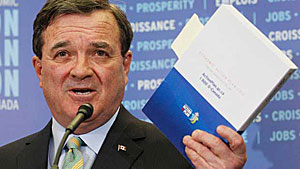 Budget 2012: First Glance
---
Finance Minister Jim Flaherty introduced yesterday the first budget since the Conservatives won their coveted majority. The budget aims to cut $5.2 billion over 3 years by cutting an average of 7% per program and will phase out over 19,000 civil service jobs. It is worth noting that in the first 2 years of their first mandate back in 2006, the Conservatives increased program spending by over 40% and this budget is a far cry from restoring Canada to a prudent economic state.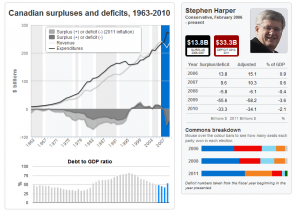 The country is expected to be back in surplus by 2015 – just in time for the next election – but the road the Conservatives have taken us through for what will be close to a decade was painful and unnecessary. Canada went into deficit long before the American crisis occurred and bailed them out of public scrutiny and this deficit was caused by reckless spending projects that were unnecessary.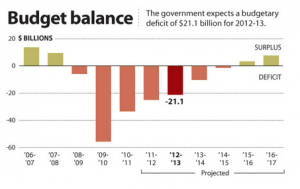 Over the past decade, the government has wasted money on hospitality, the propaganda department, a new agency dedicated to religious issues, prisons and fighter jets, gazebos in Tony Clement's riding, and the list keeps adding up. During the same period, MPs got generous salaries and that golden 23-1 pension. If this wasn't enough, expect to have 30 more ridings and 30 more MPs along with the associated costs in the next election, and expect to continue paying for an over-stacked Conservative senate who feel entitled to every cent they receive for propping up their political purpose.
In terms of specific measures in this budget:
Pensions
Old Age Security
If you are younger than 54 on March 31, you will have to wait until the age of 67 to be able to get your pension.
Pensions for Public Servants
Public servants will get their pension based on a 50/50 formula.
Retirement Age of Public Servants increases to 65 for people hired in 2013, from the age of 60.
Economic Policy
Tax incentives for job creation – $200 million for small businesses that employ, $50 million for businesses that hire students.
Fast track oil sands development
Governor General to pay taxes (but gets raise equivalent to the amount that he would pay as taxes)
Duty-free Limits match Americans: $200 for 24 hours, $800 for 48 hours.
Katimavik program for youth will be eliminated.
Downsize and sell offs of government owned buildings abroad.
Atlantic investment tax credit phased out.
Phase out of Penny, create rounding system – saves $11 million
Cuts
Department of National Defense loses $1.1 billion, 5.51%
CBC loses 10% of income
Foreign aid missions come to chopping block, losing $377 million and the CIDA will lose $319.2 million
Department of Agriculture loses $309.7 million, 9.02%
Department of Health loses $309.9 million, 5.72%
Department of Heritage loses $191.1 million, 5.66%
Canada Revenue Agency loses $225.4 million, 5.1%
Employment Insurance
Recipients in provinces that create less jobs are encouraged to move to provinces that do (notably out west for new mining jobs and the oil sands)
People who work less will get less EI coverage.
New Spending
Canadian Coast Guard will get $5.2 billion over 11 years.
First Nations will get $275 million for on-reserve schools.
New National Park near Toronto in Rouge Valley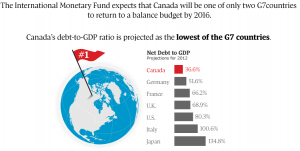 According to the Globe and Mail, the budget will put Canada ahead of the pack in terms of debt to GDP ratio but apart from jamming the Keystone project through the Legislative process and telling the unemployed to move out west, the Conservatives haven't done much to spur job growth.
There are no specific policies that will guarantee the creation of new careers and long term jobs. Instead, it might be more feasible to get a cozy job in the propaganda room which is at its highest capacity of all time. Those Economic Action Plan commercials will air in conjunction with dirty attack ads while billboards tell you your money went to jobs but the only foreseeable jobs on the horizon are those building Gazebos in Tony Clement's riding.
It is also worth noting that Canada's economy is stagnant and unemployment numbers rose the last time around.
Canada was in a good position in 2006 and after reckless spending that lead to an early deficit and after bailouts to companies that didn't need them, Canada now sits in an economic hole. This budget may not be the worst Canada has ever seen but it certainly isn't the best.
Now, why are we still paying for all those senators? Why are we adding 30 MPs and not shrinking the size of government? Why do we insist on spending billions on a tough on crime program that Texans will tell us doesn't work? Why can't we be prudent?
Why are scientists – and in particular environmental scientists – under attack – being muzzled and cut?
We are advanced in our knowledge-based economy and there are plenty of principles that we've learned that can be applied to our current system. The truth is, we have the best of what the 19th century can offer and the Conservatives have done nothing to inspire a vision or set out a blueprint for the 21st and this blueprint is the crucial part for the survival and continued relevance of Canada in a market where new economies are emerging at our expense.
The opposition were quick to slam the budget but not to propose any concrete alternatives and if rumbling of tax hikes is all they have, they will have to do much better. We don't need to raise taxes, we need to better manage our funds. Another tax hike – like the one in Quebec – will push bills, rents, and the cost of day to day goods even higher and the poor of this country simply can't afford it.
As more news comes out, there will be updates. But for now, we have painted a simple canvas and while the cuts were minor, some were misplaced while others were not made. The government in the end, did not make enough cuts to the right places and did not provide a true and feasible way to generate prosperity and for those who think tax hikes are the answer, how does a redistribution system create wealth that simply doesn't exist?
Feel free to follow us and leave your feedback! What do you think of this budget?