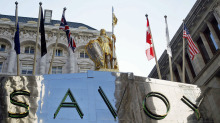 Bev Oda: 5 Star Waste of Taxpayers' Money
---
Whether Bev Oda paid her cost overruns or not, what gives her and other elected officials the right to put their hands in our piggy bank? You can hold my word for this: If I had been her boss (Prime Minister) she and many of her colleagues would have been fired for taking Canadians on a financial free ride. This isn't a matter of ideology, this is a matter of principle, accountability and fiscal discipline.
International Co-operation Minister Bev Oda wasn't satisfied with the Grange hotel that was provided to her in London so she went to the Savoy which is favored by royalty and spent more than double the cost she would have spent at Grange. She also spent $16 for a glass of really good orange juice!
Eight hours after the damaging news broke, Oda's spokespeople went into damage control trying to cover her tracks by stating she repaid the difference and cancelation fees to taxpayers.
Official Opposition Leader Thomas Mulcair pounced at Oda claiming her reimbursement wasn't sincere.
"The money for the hotel was only paid back when it was about to become public information. So there doesn't seem to have been any sincerity in the reparation effort," he said. "It seems to be more damage control than an honest application of the rules."
NDP ethics critic Charlie Angus also took a swing at the news.
"Is someone over there not embarrassed by her behavior?" he asked of the Conservative caucus. "Will someone stand up and apologize to the hard-working Canadian taxpayers? She is living like a queen off their backs."
Conservative House Leader Peter Van Loan rushed to Oda's defense saying that the matter was settled and taxpayers were refunded.
"Our government believes very much that all ministers must respect taxpayer dollars," he said. "The minister, of course, has repaid the costs in question."
Perhaps Van Loan is forgetting about the gazebos and and Defense Minister Peter Mackay when he made that statement…
Liberal Deputy Leader Ralph Goodale accused Oda of only caring about herself, claiming the reimbursement wasn't good enough.
"Especially is Ms. Oda's case," Goodale said, "because this is now the third or fourth incident of this kind of excess that indicates a minister far more interested in herself than interested in her clientele and her clientele include the poorest of the poor in the world."
"I want her to stop staying at five-star-plus hotels. I want her to start being a minister who actually believes in her file that says the world's poor need our attention, not some high-flying aristocracy," said the NDP House Leader.
With all due politics aside, we shall add Oda's waste to our collection of the mounting case against this Conservative Government.
The bill for her stay at Savoy was $665 per night and cost $1,995, plus $287 for the hotel she refused to stay at.
As if the hotel fiasco wasn't enough, Oda needed fancy chauffer service too. The luxury car and driver cost $1,000 per day and wasn't not necessary – at all. There is no indication if she reimbursed us on this spending spree.
"If she had stayed at the hotel, the five-star hotel" Liberal House Leader Marc Garneau said, "there wouldn't have been any limousine costs."
When will government become accountable? Mark my words, if I would have been her boss, I would have fired her on the spot and that is just the beginning. But then her boss, Prime Minister Stephen Harper isn't exactly innocent of this himself…
It is amazing to see our MPs treat themselves while they attack our pensions and our services and it is even more amusing to watch replacement governments beg us for tax hikes when they arrive to an empty piggy bank.
When will we be able to borrow from our piggy bank? It is we who funds it collectively and it is they who believe they can borrow from it for their personal affairs.
What do you think of Oda's fussy standards and what would you have done to her if you were her boss?