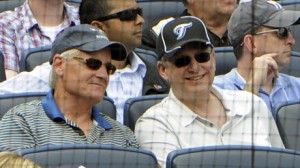 Government Waste Rampant Under Tory Rule
---
For a government that claims to be good economic managers, they sure can afford to waste a lot of money during rough economic times. Having increased spending by over 40% when they initially took office in 2006, the Harper Conservatives managed to get Canada into deficit before the World's economic crisis ever happened. In fact, if the economic crisis wouldn't have happened, the Conservatives would have been exposed as the worst economic managers in history – even beating Mulroney when the deficit struck $56 billion.
The reality is: 13 years of debt repayment under the Liberals was squandered in a couple of years of Tory rule and as we look at their spending decisions and the way they decided to manage taxpayer money, we see that they have spent an excess on themselves and things we don't need.
Prime Minister Stephen Harper had a lot of fun at a baseball game in Manhattan during the Labor Day weekend last fall, and it cost us at least $45,000. Documents obtained by CBC under Access to Information reveal only parts of the trips cost. The use of the challenger jet cost $34,633, the four staffers that joined the private family trip cost $11,026. When did taxpayer money become free spending money for the Prime Minister and his staff? There are still costs that are unknown. RCMP officers joined but as usual, the RCMP and PMO stay quiet on how much it cost. The RCMP cited a security breach as the reason it refuses to hand over the costing documents for that trip.
The PMO at the time stated that the Prime Minister paid back the expenses. His spokesperson Julie Vaux said, "Prime Minister Harper makes it a practice of reimbursing the government for personal travel. As the prime minister is prohibited from flying commercial for security reasons, he also compensates the government for the cost of an equivalent commercial flight. In this case, he compensated for the flight for himself, his daughter, and guests at the cost of a commercial fare for each."
The cost of a commercial flight is less than the cost of taking the Challenger Jet.
This isn't the first time the Prime Minister did this, do you remember the hockey game?
Meanwhile, where do the PMO stand on luxury expenses?
"Are travel/hospitality/conference expenses being provided at the lowest possible cost?" Privy Council Staffer Todd Pilon's answer: "No. Normally yes with the exception of the selection of hotels as this is decided by the PMO."
"Are economical and efficient alternatives being considered such as teleconferencing, videoconferencing, or any other?" Answer: "No. This is not up to us as we respond directly to PMO request for trips."
No Prime Minister or MP or staffer should ever be allowed to run their costs on the tab of the taxpayers.
Defense Minister Peter Mackay is guilty of wasting our money on his personal expenses, and so is our top Military Officer. Tony Clement got Gazebos out of a Border Security fund at the cost of $50 million. Labor Minister Lisa Raitt liked her expensive lunches and perks too when she was a bureaucrat.
The list of Government Waste is getting long, here's a sample:
It is time to crack down on Government Waste. As this government announces cuts that will harm food safety, border safety, the environment, pensions and so many other fields, it is about time that we start taking a look into their expenditures and make it our mission to hold them to account for every penny nickel of our money that they waste.
What do you think, should we hold governments to account for their waste?