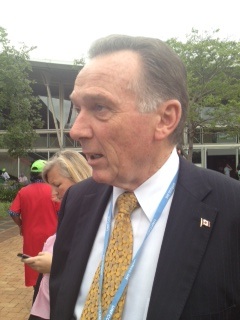 Kent: Muzzling scientists "established practice"
---
Environment Minister Peter Kent defended his government's disdain and censorship of scientific facts claiming it was an "established practice." This comes as the government plans to axe Environment Canada and cripple environmental assessments in their effort to quickly push forward the keystone pipeline project.
The entire practice of sending Environment Canada scientists an email telling them that they need government approval to present data at a recorded conference on polar issues reminds me of how George W Bush dealt with similar tactics in the United States – even having former oil company executives in the environment department.
"There is nothing new in the email that was sent to attendees," Kent said.
"It is established practice to coordinate media availability. In fact, many of our younger scientists seek advice from our departmental communications staff."
The award-winning broadcast journalist also stated that the media was to blame for causing problems when they forced scientists to answer inappropriate questions.
"Where we run into problems is when journalists try to lead scientists away from science and into policy matters," Kent said. "When it comes to policy, ministers address those issues."
NDP Environment Critic Megan Leslie rejected Kent's approach and suggested the government was trying to assign "babysitters" to scientists as a means of harassment.
"Why is the minister putting a gag order on scientists?" she asked.
"A senior Environment Canada expert called the new media guidelines unethical and enormously embarrassing to our country on the world stage," Leslie said. "Will the minister explain how interfering in media access to our scientists fits in with the government's so-called open government approach?"
This isn't the first time Kent has come under fire. I am sure no one can forget the time when he failed to explain what the Ozone Layer was to Liberal MP Justin Trudeau.
In an open letter addressed to Kent in Embassy Magazine, a group of science writers and the head of a labor union questioned the hypocrisy of the minister.
"While we can accept that some members of the Conservative cabinet might not agree with our stand on the muzzling of government scientists, we are shocked that you with your long and distinguished career in journalism would not just appreciate why we have taken a stand, but vigorously support it," they wrote.
The letter also noted Kent's resignation as anchorman on CBC's The National in 1978 when he petitioned the CRTC to hold back its renewal until its management "created procedures and protocols to prevent political interference in editorial decision-making."
"What we did expect, given your distinguished and extensive background in journalism, was that when a reporter questioned you about the present muzzling of federal scientists by the Conservative government, the 2012 incarnation of the man who was recipient of the 2006 President's Award from the Radio-Television News Directors Association of Canada would have said that not only are you against it, but that if the muzzling doesn't stop, you will be submitting your resignation to the Prime Minister," said the letter.
However, let us not forget the tight control Harper has on his ministers and let us not forget the fact that Harper is affiliated with pro-oil groups and right-wing organizations and let us not forget Harper's own hypocrisy when it comes to foreign policy.
Considering this, in principle, why hasn't Kent resigned? Is the pension, benefits and salary too good to lose? Or perhaps, Kent doesn't believe in freedom of speech after all?