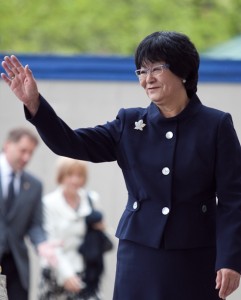 Bev Oda calls it quits
---
International Development Minister Bev Oda has announced on her website that she will be resigning as MP for Durham on July 31. After the misspending that came out of her department, it is hard to see how Canada will miss her.
She told the Prime Minister that she would resign two weeks ago.
In her public statement she said:
"For over eight years, it has been an honor and privilege to have served the constituents in Clarington, Scugog and Uxbridge. As the Minister for International Cooperation, I have had the opportunity to witness the hardships of the world's most vulnerable peoples and have witnessed the great compassion of Canadians for those in need. I am grateful for the support of my staff and colleagues in the House of Commons and Senate. I wish to express my appreciation to the Prime Minister and his Cabinet for their outstanding leadership."
She gave this statement, yet she failed to apologize for the limousine costs, the fancy hotel and $16 orange juice and she failed to recognize that she was wrong.
Meanwhile, Prime Minister Stephen Harper, who should have had the integrity and principle to fire her a long time ago for betraying taxpayer trust, is congratulating her for her "dedication in representing" her constituents, and her "many accomplishments in the ministry."
"Under Bev's guidance, Canada has led a significant initiative to save the lives of mothers, children and newborns in the developing world. Bev has also promoted accountability and effectiveness for Canada's aid programs and has championed high-profile efforts to respond to humanitarian tragedies in Haiti, Pakistan and the Horn of Africa," Harper said. "On behalf of, and together with her friends and colleagues, Laureen and I offer our best wishes to Bev as she leaves Parliament to move on to other challenges and opportunities."
If I would have been Harper, I would have fired her a long time ago. It's her scandals along with the disastrous budget that may very well spell the downfall of the Harper government in 2015 – if not sooner. It is actions like those initiated by Bev Oda that has attracted criticism and scrutiny over Conservative management abilities and Mr. Harper, you sure didn't do yourself any good keeping her and some others for this long. What ever happened to principle? Does that no longer exist in politics?
To those who missed it, here are Bev Oda's accomplishments: