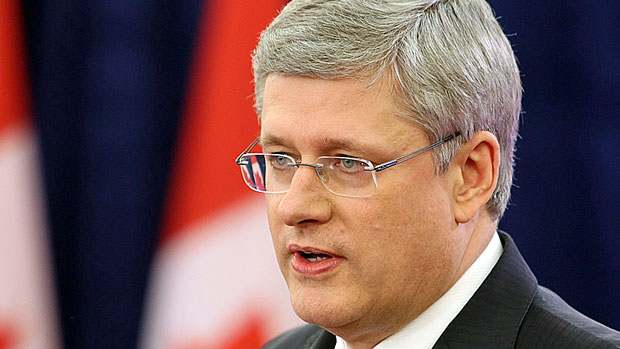 Harper turns over Alberta Oil to the Communists
---
Prime Minister Stephen Harper has approved the CNOOC-Nexen takeover deal and Canada is now trapped in a 31 year deal where China will almost always get the final say. The Chinese government does not believe in our free and capitalist society, remaining totalitarian with a communist system that has one of the worst standards for human rights in the world. This was once a concern for Harper whom slammed the door on China but now, out of virtually nowhere, not only is China an important trade partner, it is trusted enough to own, for 31 years, one of Canada's most strategic resources that is in very high demand and low supply around the world. In other words, Canada got royally ripped off with its flat rate $15 billion in one-time revenue.
It is worth reminding Canadians that this deal is significant, not because a Canadian company was bought out, but because a Canadian company was taken over by the Government of China. It is also worth noting that Canadians are divided in almost every party on this issue – just in different ways. Not all Conservatives and not all businessmen are happy with this decision, but there are some Liberals, like the Justin Trudeau camp, that are. The NDP has firmly came out in opposition but while some may oppose the foreign take over, others may oppose the entire oil exploitation project altogether. But then, these are all hypothetical.
There are many reasons for Albertans in particular to take note of what has happened. Notably, this deal affects their province, its governance and its wealth. Having the Chinese government take over the Nexen part of the oil sands and its land goes firmly against what most Albertans stand for. Albertan voting trends show a populace that is centre-right and in favor of preserving their liberties. They are also concerned about their environment and their living standards. This deal puts a known communist regime smack in the middle of their land and there hasn't been any recent memory of a communist movement in Alberta, rather, the contrary has been growing within the provincial Wildrose opposition and in the current Progressive Conservative government.
Albertans and the rest of Canadians will have a say on the deal in 2015 but in terms of legality, it is but too late. Any plans or attempts to reverse this deal will lead to court hearings that have already been agreed upon to a certain standard where Canada loses. We entered a deal where the cards will always be stacked against us and two-thirds of any legal dispute will always be decided by a non-Canadian. It is also worth noting that if the Conservatives get replaced in 2015, any new legislation cannot apply to anything related to this deal. Nexen's land is China's land governed by the communist government of China, not by Albertans, not by the Province of Alberta, not by Canadians and not by the Government of Canada. China will likely do what it has already done to other companies: replace workers with Chinese labor – which get a free pass in the deal – and the hierarchy of the company will be replaced with Chinese government officials.
Canadians lost a lot in this deal, and politically the Conservatives and Liberals have taken the pro side while the NDP took the con.
Harper, however, has taken note of the opposition, with hands tied from earlier secret meetings with Chinese officials, Harper allowed this deal to be exceptional, but in his address this evening, he stated clearly that it wouldn't happen again.
"When we say Canada is open for business, we do not mean that Canada is for sale to foreign governments," Harper said.
"To be blunt, Canadians have not spent years reducing the ownership of sectors of the economy by our own governments, only to see them bought and controlled by foreign governments instead."
Meanwhile, the opposition is divided, with the NDP coming out strongly in dissapproval and the Liberals calling the takeover the "right move."
NDP Energy critic Peter Julian responded:
"I mean, this has been churning for months, and this has been a badly botched file."

"We've seen complete confusion from this government, and today they're trying to sugar-coat something that I think will be a rather bitter pill for Canadians, the vast majority of whom feel that this particular acquisition is not in Canada's interests, and who want to see clarity around net benefit and who want to see above all public consultations on these kind of takeovers."

"While Conservatives admit that under the new rules this transaction is not a net benefit to Canadians, they have approved it anyway."

"Canadians should be very apprehensive about the long-term economic and environmental consequences. In the past, these kinds of takeovers have resulted in job losses."
Liberal MP John McCallum responded:
"On the broad decision, we think it's good, but obviously we haven't seen the details."

"What conditions are there? Is there any degree of reciprocity? How are we to make sure the Chinese maintain their commitments? Is there a mechanism to make sure that they do? But assuming those conditions are met, I think that is the right decision."
Politically, with Canadians increasingly weary over the prospect of a Chinese takeover and with opposition to the project mounting, the Conservatives and Liberals both are set to lose for choosing to support the takeover.  Despite how much Canada may have lost from this decision, politically, there are no bigger winners right now than the NDP. MP Peter Julian made a strong point about the government's double standard when they accepted this deal despite admitting that it didn't pass the net-benefits test. Even Conservative economic columnists have come out against the deal on the basis that it would be bad for the Canadian economy and that the Chinese have a terrible track record when it comes to meeting their end of commitments and when it comes to creating jobs in the countries whose businesses they take over.
We can expect ramifications from the United States as both President Barack Obama and his Democrats and Republican challenger Mitt Romney expressed concerns and disdains for the take over. They weren't the only ones:
Former US governor Howard Dean said, "I personally don't think that's a good idea for either the Canadian or American assets … But I think that, of course, each government will make their own decision."
Republican Senator John McCain said, "I think it's also a role for the legislative body to hold hearings, to get witnesses and say, 'OK, what is this all about?'"
McCain said he is anxious about "Chinese trade practices" and "remains deeply concerned about cyber security and the continued espionage practices in cyber warfare that the Chinese practice."
Source: Global News
What do you think about the deal? Which party came out on top?