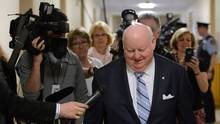 Chief of Staff gifts Mike Duffy money, potentially breaks more rules
---
Last night, CTV News broke the story revealing Conservative senator Mike Duffy's repayment of fraudulent housing allowance claims was orchestrated by the PMO. Up to date, we learn Stephen Harper's chief of staff Nigel Wright personally paid Duffy $90,172 to cover for the housing allowance repayment. Senate rules reveal the gift may have broken conflict of interest rules while the PMO defends the action.
In a highly unusual move, Prime Minister Stephen Harper's chief of staff Nigel Wright dug into his savings to bail out embattled Conservative senator Mike Duffy in a deal reached on February 20.
In a statement from the Prime Minister's Office, Wright's move was defended as it contributed to having Duffy do the right thing.
"The Government believes that taxpayers should not be on the hook for improper expense claims made by Senators.

Mr. Duffy agreed to repay the expenses because it was the right thing to do. However, Mr. Duffy was unable to make a timely repayment.

Mr. Wright therefore wrote a cheque from his personal account for the full amount owing so that Mr. Duffy could repay the outstanding amount.

The independent external audit by Deloitte looking into Senate expenses was completed and the results tabled.

Mr. Duffy has reimbursed taxpayers for his impugned claims. Mr. Harb and Mr. Brazeau should pay taxpayers back immediately."

Andrew MacDougall, director of communications for the PMO.
However, according to the Senate's code of ethics, "senators are prohibited from accepting gifts that could reasonably be seen to relate to their position."
The Senate's Conflict of Interest code may also have been broken. It requires senators to disclose of all gifts of more than $500 within 30 days. The code also states, "neither a Senator, nor a family member, shall accept, directly or indirectly, any gift or other benefit, except compensation authorized by law, that could reasonably be considered to relate to the Senator's position."
Up to one point, the rule has been followed. A gift can be accepted if it's "received as a normal expression of courtesy or protocol, or within the customary standards of hospitality that normally accompany the Senator's position."
A member of the Senate's conflict of interest committee wouldn't comment on Duffy's case but said these disclosures and gifts are published online. Duffy hasn't updated his public conflict of interest site since September 27, 2012.
So in an effort to cover up a potentially damaging scandal, it turns out the Conservatives have dug themselves deeper in a hole. The scandal now involves the PMO and Stephen Harper's right hand man, and chief of staff, Nigel Wright. It is unusual for political staffers to get involved with scandals, and pay $90K to bail out a rich senator with two properties. Why did Wright pay for Duffy out of his own pocket? Did Wright really think it would make the scandal go away? How much more damaging can this scandal get if the PMO are already interfering?
To get all the details from the initial release, read: Harper's Chief of Staff and CPC Senator Mike Duffy made secret deal