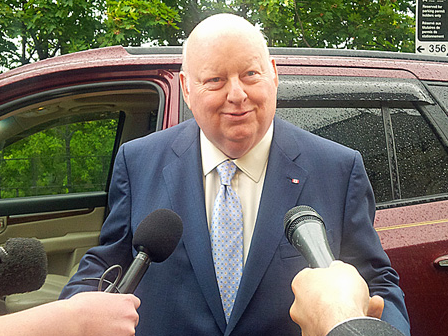 The Duffy Affair: Duffy speaks out, calls for public inquiry
---
Mike Duffy spoke to reporters yesterday and while dodging most of their questions, said he would cooperate with investigations and said he wants Canadians to know the "full story." He said he wants a "full and open inquiry" to answer many of the questions that have floated around for the past weeks. Meanwhile, the RCMP is closing in, but Duffy said he hasn't been contacted by them.
"I think Canadians have a right to know all the facts and I'm quite prepared in the appropriate place and time to give them the whole story," Duffy told reporters as he left the Senate and walked to his car. "There are bits and pieces out there, it should all be put together in one place and there will be some place to do that."
Duffy refused to speak after news broke that Prime Minister Stephen Harper's former chief of staff Nigel Wright cut him a cheque for $90,172 to pay off inappropriate housing expenses.
The interview gave reporters a shot to get some answers and one of his answers was very interesting. When Duffy was asked if Harper knew about the deal he said, "I have no idea. I would find … I just don't know."
Duffy cut off his own sentience to say he didn't know.
When reporters wanted more details and more questions answered, Duffy said, "Just wait for it all to come out."
The senate voted down a Liberal motion to hand the investigation over to the RCMP, opting to send the case back to the internal economics committee where the initial audit was doctored by chair David Tkachuk and Harper's former head of communications, Carolyn Stewart Olsen.
Duffy weighed in on this decision saying, "Of course, it has to be done in public, there's no question."
"Canadians deserve answers, I want to give them answers, and eventually, hopefully not too long, they will get the answers," he said. "We need a full and open inquiry so that it all gets aired."
What do you think of Duffy's scrum with the media? What was Duffy going to say when he cut himself off?