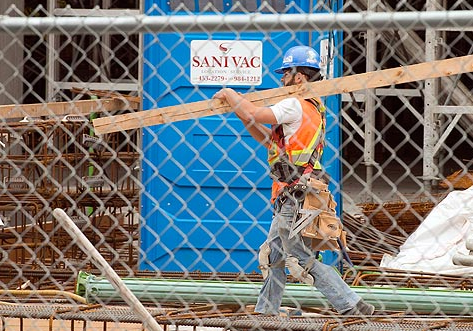 Unemployment rate up to 7.2% as 39,400 jobs lost in July
---
If it wasn't already difficult to find a job in most of Canada, expect situations to get worse as the jobs market took a sharp and unexpected downward turn.
As the global economy continues to recover, Canada's has taken a nosedive, shedding 39,400 jobs last month causing the unemployment rate to increase to 7.2% from 7.1% in June and May.
July is the second consecutive month of job losses, however 39,400 is no comparison to only 400 last month.
The losses came from an unexpected place, the public sector. Statistics Canada reports 74,000 public service jobs, half of those in healthcare and social assistance, were shed and weren't met with sufficient private sector growth.
While the Harper government has been cutting to deal with their ballooning deficits, economists are doubtful government measures are responsible for such a sharp drop in the public sector.
"I've no doubt there is some restraint going on, but it's incredibly hard to believe that it all happened effectively in one month," said Doug Porter, chief economist with the Bank of Montreal.
CIBC's chief economist Avery Shenfeld said 47,000 losses in stable areas like healthcare and social assistance "could simply be statistical noise" or a correction from previous counts.
"I think the overall story is job growth is moderate at best," Porter said. "Another way of coming to the same conclusions is at the start of the year the unemployment rate bottomed at 7% and we're now at 7.2%, so it does look like there's been a little bit of deterioration since the start of the year."
Despite the alarming drop, the number of hours worked increased, along with 31,400 new private sector jobs and 13,500 in the manufacturing sector. Businesses and the service sector added 29,000 jobs as well.
However, not everyone saw those new jobs, the report noted 45,600 jobs, which typically went to students, were lost in the midst of one of the most difficult summers in recent history for student employment.
"The Bank of Canada should view it as a temporary shock that will be unwound after the Labour Day holiday," said David Madani, chief economist with Capital Economics in Toronto. "Nevertheless, the modest gains in prime-aged employment over the past six months supports our view that the economy has been underperforming its potential growth rate of 2%."
While economists pile on with criticisms of Canada's outlook, Flaherty insisted monthly job numbers are volatile and pointed to the increase in the private sector as a good sign.
Economists expected a net gain of 10,000 jobs but were met with a loss of 39,400. The losses effectively eliminated optimism from April's 95,000 net job gain.
Economists are saying a more accurate way of looking at the Canadian economy is to say it's growing at a snail's pace and won't keep up with population growth.
The first half of 2013 has an average of 11,000 new jobs per month which is weak in comparison to the average of 27,000 new jobs per month in the second half of 2012. A rate of 11,000 new jobs per month isn't sufficient to fill vacancies that are created through the natural growth of the labour force, which economists estimate varies between 15,000 and 20,000. As a result, the unemployment rate will steadily increase unless a large chunk of discouraged Canadians exit the workforce altogether.
As bad as the numbers seem on a country perspective, the impact isn't the same throughout the country. Six out of 10 provinces lost jobs this month, the hardest hit being Quebec with a net loss of 30,400 jobs. Alberta saw modest gains of 16,600 jobs.
The Bank of Canada expects a rate of growth of 3.8% throughout the third quarter which should offset the negative impacts of the construction strike in Quebec and floods in Alberta.
Unemployment Rates across Canada
| Region | July | Trend | June |
| --- | --- | --- | --- |
| Canada | 7.2% | | 7.1% |
| Nunavut | 13.7% | | 13.5% |
| Prince Edward Island | 11.8% | | 10.9% |
| Newfoundland | 11.4% | | 10.9% |
| New Brunswick | 10.2% | | 11.2% |
| Nova Scotia | 9.0% | NC | 9.0% |
| Quebec | 8.2% | | 7.9% |
| Ontario | 7.6% | | 7.5% |
| Northwest Territories | 7.3% | | 8.9% |
| British Columbia | 6.7% | | 6.3% |
| Manitoba | 5.5% | | 5.0% |
| Yukon | 5.3% | | 6.4% |
| Alberta | 5.0% | | 4.5% |
| Saskatchewan | 4.0% | | 3.7% |
Source: Statistics Canada
Clearly Canada's economy can be doing better than it currently is, have you been effected by the latest round of job losses? Do you believe the job market will increase pace in the third quarter? What do you think of Quebec's 30,400 losses in reference to Canada's 39,400?