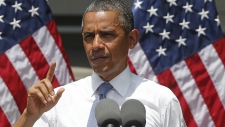 Obama: Keystone pipeline approval depends on its emissions
---
US President Barack Obama drew a clear line in the sand today on where he stands on the controversial keystone pipeline project. Natural Resources Minister Joe Oliver responded to the remarks, saying he's confident the facts support the approval of the project in a time when the Conservatives will likely be shifting their attention to the resource-based economy.
Obama told Americans as part of his climate change address that the keystone pipeline's zero net-increase in greenhouse gas emissions "is absolutely critical in determining whether this project will be allowed to go forward."
Oliver responded, saying, "On a net basis, I don't see any increase on emissions."
He continued his pitch saying 20% of the crude would come from Saskatchewan, North Dakota and Montana.
"That's lighter crude, which has significantly lower emissions," Oliver continued.
Oliver's next pitch was to compare the US's current imports to a future import from Canada. Oliver said Canada's oil-sands would release far less emissions than those of the US's current supplier, Venezuela.
"I just think if you look at the facts and the science we're comfortable the project will be approved," Oliver said.
"The economic advantages are obvious and overwhelming," Oliver said, pointing to a $7.6 billion project that would carry millions of barrels of bitumen from Canada to Texas refineries per week.
In terms of National Security, Oliver made the pitch that Canada's oil "would be displacing oil from a less reliable source."
Obama rejected the project early last year, but when TransCanada was able to present an alternative that wouldn't harm ecologically sensitive regions of Nebraska, the state approved it.
"The almost five-year review of the project has already repeatedly found that these criteria are satisfied," a TransCanada spokesperson said in a statement.
"If Keystone XL is not built, it's clear that the oil will move to market by truck, rail and tanker, which will significantly add to global greenhouse gas emissions to move the product."
Sierra Club of Canada executive director John Bennett cited Obama's conditions were "an impossible task."
"Stating approval could only happen if it didn't lead to an increase in greenhouse gas emissions is clearly a death sentence for Keystone," Bennett said.
The US government has yet to come to a conclusion on the project but will likely do so by this fall, leaving Obama with the final word on whether it will pass.
While the Harper government is hoping for a positive American response, they're not about to back down if the response is negative.
Government sources told CTV they expect Harper to shift the narritive to the resource economy this fall, which he'll sell as economic stability for Canada.
As much as the choices are economic, given the rough political waters the government has been through, the shift in focus would bode well politically as it pits Harper against the opposition on a suit Canadians tend to favor Harper in.
"I do believe that diversifying Canada's export markets is the fight of our time," said one government source.
"These are defining issues, because we're taking one side on these issues, and the opposition's taking the other side of them. Canadians will have a very clear choice before them."
The Conservatives want to fast-track deficit elimination so they can roll out their big campaign promise: family income splitting.
As the Harper intends to bring the economy back to the forefront of public attention, he hopes for a successful trade deal with Europe.
"We can look back at our record with pride and look ahead with confidence, because we have made good decisions," Harper said in Dolbeau, Quebec on Monday.
"Few countries in the world can brag they have an economy as dynamic as Canada's."
The calendar for such announcements, however, has been shifted since the Alberta floods delayed their convention and will require Government aid.
The Harper government, plagued in scandal, is also expected to shuffle the cabinet to revamp momentum in his cause, something one Conservative warned was crucial.
"He has to show momentum," said one Conservative. "If we wait until later in July to take action, there's a risk it will go unnoticed."
But, don't expect the scandals to go away just yet. Canadians still don't have answers to the Duffy Affair and the opposition will likely try to hammer away at the government in the fall.
A shift to talking about the resource economy will likely give new life to environmental discussions, especially in the wake of the Alberta floods. It is clear climate change is happening, even if Conservatives deny it. As for Natural Resources Minister Joe Oliver, he likes to preach "scientific facts" but managed to insult internationally renowned and awarded Climatologist James Hansen who spoke in opposition to the keystone pipeline project.
Obama's decision and the future of Canada's resource-based economy will be interesting to watch. While Canada needs to take advantage of economic gains in this sector, one must caution of the consequences of leaving all of one's eggs in one basket, and the future costs of intensified climatic anomalies. What do you think Obama will do? Will the new narrative help a beaten government, or cause a further rift among Canadians?