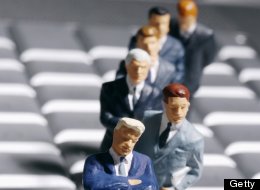 Bureaucracy ballooned under Harper at expense of services
---
Canadians angry about Conservative austerity measures have a new reason to be upset. While the cuts the Conservatives made directly impacted services, bureaucracy and federal payrolls ballooned as a result of their governance. In short: Canadians lost services and meat so they could keep useless bureaucrats and fat.
The Canadian government needs a clean up. Taxpayers are paying millions for bureaucracy that slows down and starves services. Under the Conservatives, a number of departments saw hiring sprees and payroll increases – not for services Canadians care about, but bureaucracy that continues to pose as leaks in a deteriorating hose.
While the Conservatives muse on public sector pensions, sick leave and collective bargaining, they are the cause for a drastic increase in Canada's bureaucracy.
New figures from the Parliamentary Budget Office show the Department of Defence wasn't the only department to be swamped with new bureaucrats and suffocating mismanagement.
Between the fiscal year of 2005-2006 (when Harper came to power) and 2012, the number of people on federal payroll was up 14%.
In the same period, information service employees were up 15.3%, administrative services ballooned 20%, financial management staff rose by 35% and welfare program employees rose 43%.
These increases don't mean these services got better, these increases mean there were more mouths to feed as money trickled down – this means money that would have went to services, instead went to these new bureaucrats.
The Canada Border Agency ballooned 54.6%. The Correctional Service jumped 31%.
The RCMP's bureaucratic fat rose 40%. The RCMP admits bureaucracy now represents 25% of its staff, up from 21% in April 2006.
Public Safety Canada jumped 53% but officials say that excluding the part-timers, "the departmental workforce has in fact increased by only 35.56%."
The Canadian Security Establishment ballooned 42%. Meanwhile, FINTRAC — the Financial Transactions and Reports Analysis Centre of Canada which tracks money laundering, organized crime and terrorist financing spiked 88%.
The Department of Defence rose 29.3% where Ottawa-based finance and administration jumped 57%.
The Justice Department saw a 10.7% increase in staff.
Aboriginal Affairs saw a 38% increase and the Canadian Environmental Assessment Agency nearly doubled.
The Treasury Board, meanwhile ballooned by 163%.
Canada's security, corrections and spy agencies also saw drastic jumps in bureaucrats, but surprisingly, the Finance Department dropped 22% (back to where it was when Jean Chretien's Liberal government made drastic cuts in the '90s), Industry Canada dropped 10%, the Heritage Department dropped 7%, Citizenship and Immigration dropped 8.3% and the Privy Council Office dropped 4%.
"By 2015 the Department of Canadian Heritage will be nearly 40 per cent smaller than it was at the start of the economic downturn in 2008," said Jessica Fletcher, a spokeswoman for Heritage Minister James Moore.
"We cut the bureaucracy and protected funding for Canadians outside Ottawa who needed it most," Fletcher said.
The Department of Natural Resources has spent more than ever trying to advertise the tar sands project, but has at least cut their bureaucracy by a mere 1.4%
The Library and Archives was down less than 1% and the Privy Council Office dropped 4%, despite being one of the largest in history.
Over the next 5 years, the Conservatives intend on cutting 19,000 jobs but according to the PBO, the overall increase in bureaucracy introduced 34,000 new individuals since 2006.
Summary of Bureaucracy Increases
Overall: 14%
Treasury Board: 163%
Financial Transactions and Reports Analysis Centre of Canada: 88%
Canada Border Agency: 54.6%
Public Safety Canada: 53%
Welfare Program: 43%
Canadian Security Establishment: 42%
RCMP: 40%
Aboriginal Affairs: 38%
Financial Management: 35%
Correctional Service: 31%
Department of Defence: 29.3%
Administrative Services: 20%
Information Services: 15.3%
Justice Department: 10.7%
Summary of Bureaucracy Cuts
Department of Finance: 22%
Industry Canada: 10%
Citizenship and Immigration: 8.3%
Department of Heritage: 7%
Privy Council Office: 4%
Department of Natural Resources: 1.4%
Library and Archives: 1%
It is clear a government that wants to focus on services will need to reform the current infrastructure to ensure taxpayers' money is being put to good use. As a result, it would be recommended to cut the bureaucratic increases by at least the amount they increased since 2006.
What do you think of the Conservatives' mantra of prudent economic managers given the amount bureaucracy increased while austerity crippled public services?