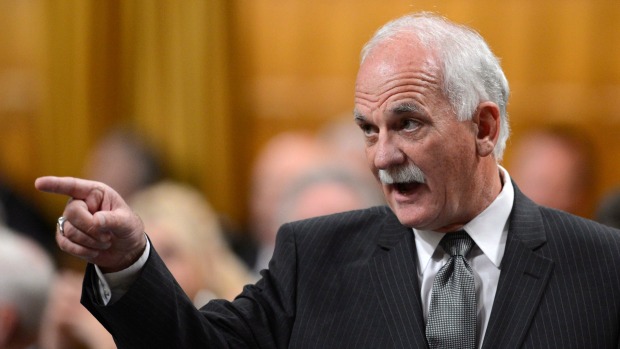 Public Safety Minister Vic Toews leaves politics tomorrow
---
Effective tomorrow, Public Safety Minister Vic Toews will resign his cabinet post and his seat as MP. Not only does Toews join a list of MPs walking out the door, Toews makes room for Harper's attempt to put new blood into the front benches of his government – which he hopes will revive the dying brand. Toews is leaving to spend time with his family and pursue opportunities in the private sector.
"It takes a great deal of deliberation on the part of those who decide to enter politics," said Toews in a statement today.
"It takes an even greater amount of consideration and effort to step out of office when one still enjoys the support of those who elected them. However, for me, the time has come to step aside and begin the next chapter of my life."
Toews has had his notable moments, none more notable than his Bill C30 and Bill C51 which blatantly tried to allow the government to intrude on people's online activities without a warrant and is unconstitutional. When the opposition ripped the bill apart, Toews told Liberal public safety critic Francis Scarpaleggia he could "either stand with us or with the child pornographers."
This led to serious backlash – from a Twitter account called Vikileaks which leaked details of his divorce to Anonymous's address leaking every detail they allegedly have on him – responding directly to his child pornography statement.
Despite the controversy surrounding Toews, he believed he did the right thing.
"When I entered federal politics in 2000, I did so with the intention of making a positive contribution to Canada by being a part of the movement to unite conservatives across the country. Looking back, I believe I accomplished what I did because of my desire to work with other like-minded people," Toews said.
Toews is responsible for much of the Conservative tough-on-crime agenda which includes raising the age of consent to 16 from 14, abolishing the long gun registry and enhancing the RCMP Accountability Act.
Toews is also responsible for the RCMP, in an interview with Global's The West Block on April 28, 2013, he took full responsibility for the control over the RCMP.
"I'm responsible for the RCMP. I need to know exactly what the RCMP is doing and saying because if I go into the House of Commons and I have no idea what is being said, I'm at a distinct situation where it appears that I'm not carrying out my responsibilities to the House of Commons," Toews said.
"Essentially what happens, especially if it's MPs from my party, they'll come to me and say, 'Look I want to talk to the RCMP,' and I'll refer them to an individual and that's the end of it," he said.
"The RCMP clearly has to communicate as an entity, especially on issues of national and public security."
What do you think of Toews's departure from politics? Do you believe he made "a positive contribution to Canada?"