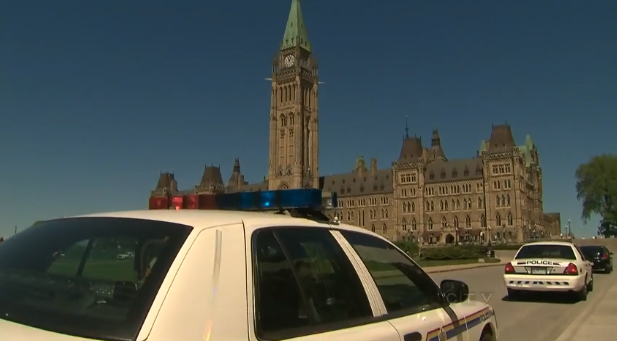 The Duffy Affair: Search warrant needed to get PMO email?
---
The Prime Minister's Office and RCMP are at a bypass over the February 20 email disgraced Senator Mike Duffy wrote to receive compensation for his fraudulent housing allowance claims with former Chief of Staff Nigel Wright.
On Tuesday, CTV reported the RCMP said the PMO were withholding the email. On Wednesday, PMO spokesperson Julie Vaux said "our office has not been asked for this email." Former RCMP chief Gerry Clement suggested a search warrant may be the next step if the PMO doesn't hand over the email voluntarily.
"The PMO is not sacrosanct, and therefore, a warrant issued properly by judicial authority, they have to co-operate," he said.
The email contains a "scenario" in which Duffy would remain silent as Wright paid his $90,000 bill and soften the senate report's findings against him.
PMO Communications Director Andrew MacDougall confirmed the email's existence.
"My understanding is it is a paraphrase of conversations that happened," he said. "I've had them described to me from someone who is no longer here."
When asked if Wright had the email, MacDougall said, "I can't speak for Nigel."
RCMP insiders allege the PMO is withholding this information and if this is the case, search warrants may be the next step.
Harper's opponents criticized the PMO's reluctance to cooperate with the RCMP.
"Instead of engaging in this proactive disclosure, they seem to be hiding behind weasel words like, 'No one asked for this particular email,'" NDP MP Jack Harris said. "There's something wrong with that."
Liberal Leader Justin Trudeau said he hoped the investigation would reveal "some answers on this, but we see this government prefers to choose secrecy, cover up and spin."
With both sides on a bypass it will be up to the public to decide who they believe. Do they believe the RCMP who say the PMO is withholding the critical email or do they believe the PMO who claims the RCMP never asked for it? Above all, wouldn't a government with integrity have voluntarily handed over the email – why haven't the Conservatives thus far? Finally, if the RCMP have sufficient evidence to prove a criminal act took place in the PMO, why are they waiting to storm the office with search warrants? What do you think of the ongoing scandal?