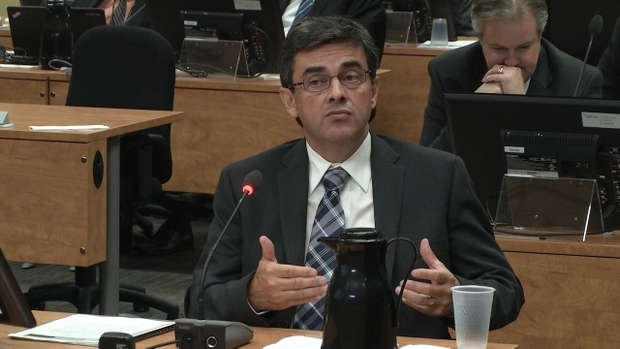 Tory EAP money targeted by corrupt Quebec companies
---
As Quebec corruption comes under the microscope in the Charbonneau commission, it appears Quebec politicians aren't the only ones who need to be worried about the ongoing collusion. It turns out the Conservative Economic Action plan didn't escape the hands of corrupt engineering firms and construction unions which colluded federal stimulus contracts. It is also notable that a former Conservative candidate in Montreal faces corruption charges under the same investigation.
A former engineering firm executive told the hearings of the plans of a group of companies that looked to collude the federal infrastructure program. The eight companies created a system to set a minimum price on contracts to which the companies would take turns winning bids.
Former vice-president of urban and transport engineering of U.S. giant Aecom Pierre Mathieu said these companies started their 2004 plan in 2006 when the Harper government did its first infrastructure spending blitz. When the economy crashed at the end of 2007, meetings became more frequent as the Economic Action Plan shelled out billions of stimulus to the hands of these companies. He continued to say things became so busy that the participating companies didn't bother agreeing to a percentage of the share.
"There were so many projects," Mathieu testified Wednesday.
"Given the volume of projects we opted rather for whoever was available — they would win the bid."
He said the losing companies would bid within 5% of the winning company's price to divert attention.
The targeted projects featured road repair, sewage repairs and street extensions but didn't apply to bridges, analysis and renovations.
Company Presidents signed a contact that averted price wars and urged each other not to cut their prices.
"Don't cut your prices, don't cut your prices," Mathieu said he was told by people in his own company.
The federal government said that even though it granted the funds, it didn't have any involvement in the contract process.
"The projects that our government funds are priorities established by the provincial government," Michele-Jamali Paquette, a spokeswoman for the minister of infrastructure, said last Tuesday.
"The province of Quebec is responsible for overseeing the tendering process and awarding contracts on these projects."
Quebec's Charbonneau commission is still scratching the surface of corruption in Quebec where provincial parties and provincial and municipal officials were found to have links to the mafia.
Up to now, the federal realm has only been mentioned by engineering executive Rosaire Sauriol who replied, "Yes," when asked if he gave funding to federal parties during the same period he illegally funded provincial parties.
In June, Conservative candidate for Mount Royal Saulie Zajdel was arrested with former Montreal Mayor Michael Applebaum on corruption charges linked to the investigation.
What do you think of the news that collusion plagued federal stimulus?