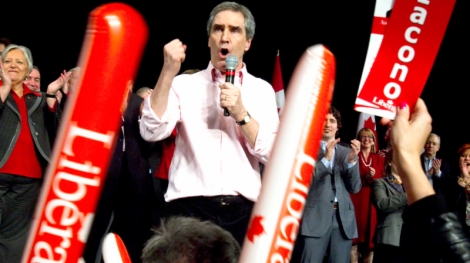 Election 2011 Day 2
---
As Stephen Harper continues to try to convince Canadians that Michael Ignatieff has a hidden agenda to for a coalition government, Michael Ignatieff attacked Harper's "abuse of power" while he was in power. After a series of scandals and a series of actions that proved that the Conservatives don't respect democracy, the Conservatives were found in contempt and defeated.
In Montreal, Michael Ignatieff told the crowd, "This is a government that is out of touch and out of control.
"This is a government, a regime, with a basic objection with democracy. That's what Canadians are finding difficult, that's what Canadians are finding difficult to stomach, that is what Canadians want to replace."
Ignatieff took full aim at Harper's top advisor Bruce Carlson, who is being investigated by the RCMP for influence peddling, and Harper's two cowardly shut downs of parliament when things didn't go his way.
"Does that inspire trust in you? It certainly doesn't inspire trust in me," he said.
Once he finished attacking Harper, he pledged to protect the environment, strengthen healthcare and help students get post-secondary education if elected as Prime Minister.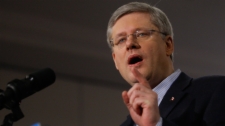 Ignatieff is set to visit Justin Trudeau in Papineau.
Even as Ignatieff made it crystal clear that there wouldn't be a coalition, and even though Stephen Harper was an advocator of this in 2004, he continues to press on the charge that his opposition are only intent on forming a coalition. Gilles Duceppe didn't take Harper's accusations lightly demonstrating – with the actual document that Harper wrote and signed – that the same set up was to be formed in 2004 with Harper to take out the sitting Martin government. And Harper calls Ignatieff a hypocrite…
In Brampton Ontario, Harper told his rally that, "They don't think they need to win this election. Just hold us to another minority and they will move with lightning speed to recreate and impose their reckless coalition on Canadians." At this point, a coalition would be much more appealing than a government that lies, peddles influence, and can't even be true to their crime agenda when they are constantly investigated for crimes left, right, and center.
After being the cause of the largest deficit in Canadian history and spending like a drunken sailor, Harper said, "That is what this election is going to be about, creating jobs and financial security and keeping our economy moving in the right direction." In other words, the right direction is a fake lake and billions in luxury bonuses for his G20 friends, billions for unneeded prisons, billions for fighter jets and millions for his ad campaigns.
Duceppe meanwhile went to Laval in an attempt to keep a historically strong Liberal riding under the Bloc wing as it fights to keep its 47 seats.
Jack Layton is targeting ridings that it lost to the Conservatives. Today they were in Surry, BC to hold a rally and meet with business owners.
A tip to making the right decision come election day:
The Conservatives have an extensive list of problems and their policies are out of touch with Canadians. The reason why they are in power is because they're minority support group voted for them no matter what happened and as the opposition supporters stayed home, Harper raked in the votes that 59% of the population gave.
Voting for the NDP, Bloc Quebecois and Green is the same thing as voting Conservative. The reason is that they take votes from the Liberals – and let's face it, none of them can take every Liberal vote and win enough ridings to form a government. Therefore, if you are fed up with the current situation in Canadian politics, you have no choice but to vote Liberal and stop the vote split by getting your friends and people to know what is going on.
This election is a choice: Liberal or Conservative. If you don't want Stephen Harper and his policies, you have no choice but to vote for Michael Ignatieff and his Liberals. Not voting will result in a Conservative Majority government – a government that is out of touch with Canadians and has already been dismissed as one of the most corrupt regimes we have ever had.
Therefore, if you are fed up with Harper and his disrespect for Canadian democracy, send a strong message, vote Liberal.