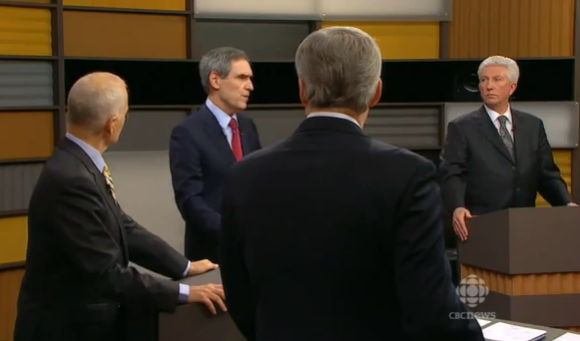 Leadership Debate Will Have No Bearing on Campaign
---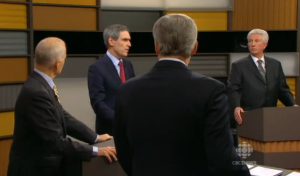 The Conservatives only had one defense when it came to the Motion of Contempt that kicked them out of power. It was that it was a solely opposition-based ordeal. Now that the Auditor General comes out with a report on the G8 and G20 summits echoing the opposition's call of 'lack of transparency,' Harper will have quite a bit to worry about. From the campaign of accountability came the 'In and Out' scandal, staffers who are being investigated for fraud, G8 funding for borders which landed 300km away from any type of border and was used as bribe money for a riding.
The leaders got a chance to attack each other in a formal manner and they all chose their targets in last night's leadership debate.
Liberal leader Michael Ignatieff took square aim at Conservative leader Stephen Harper while Bloc Quebecois Leader Gilles Duceppe started the debate on a strong note for the opposition. New Democrat Leader Jack Layton came out swinging at both Harper and Ignatieff as he tries to take his fourth place party in the House of Commons to the head position.
Each of the leaders did a good job. Michael Ignatieff, however, could have been a lot stronger. You must respect the man for being a polite gentleman, but politics doesn't work that way – unfortunately. By being smooth, Ignatieff allowed Layton to trample over him and that wasn't pretty. However, Layton has always been a very vocal man, and props to his ambitions, but in the past, they haven't resulted in the gains that he is looking for in particular.
Gilles Duceppe knows that there isn't a chance that he will become a Prime Minister in the current context. This is why it is the most entertaining to watch him debate. He has absolutely nothing to lose by attacking Harper rigorously – which he did a good job at.
The way that the debate was organized was fine; however, the questions weren't mix-matched with the right leaders. The question concerning the tax breaks for corporations was best suited for Ignatieff, but it was the Layton vs. Harper segment. But, Ignatieff weighed in a bit later and nailed each of the points that he needed to nail – just he was barely noticeable from the crowd.
This is an overall trait of the Liberals these days… compare their campaign posters to their rivals and you can see that they won't get noticed.
It is no surprise that Layton performed powerfully. Given his experience and passion for politics, a flop would have been a shocker.
Harper didn't perform that well. While there were parts where he seemed comfortable, the beginning close-ups of his face showed that the context of the debate was getting to him. At some points, you could hear in the tone of his voice, a man who was trying desperately to prevent himself from losing control.
It shows that Harper was unscripted in the beginning as most of what the opposition brought up took him by surprise.
Overall, the debate was fine, but won't change anything. If scandals keep coming out on a daily basis as they have been, Harper might soon take the impact.
There are still two weeks to go and in politics, that can be the equivalent of a lifetime!