Harper's Response to Quebec Flood Victims 'an Insult'
---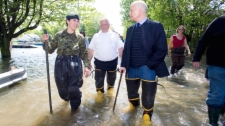 While Manitoba controls its flood and got two Prime Ministerial visits and plenty of support, Quebecers are left to deal a retreat of Canadian Armed Forces, all the while, Harper visits the rest of the brigade in Afghanistan. NDP leader Jack Layton took the opportunity to tour the region and called Harper's actions 'an insult.' He is the first national leader to tour the region and many of his newest seats are in the area.
The Conservative Majority Government that campaigned on being 'Here for Canada' has turned its back to the 3,000 residents of the Richelieu Valley in Quebec who aren't getting a break from the rising Richelieu river, nor will they see one any time soon.
An abnormally wet winter and spring has precipitated to a higher Lake Champlain and no where for water along the Richelieu Valley to go, but up. This has been the first time in over 100 years that the Richelieu river has reached these levels which have broken records three times.
The hardest hit of the region is the community of Saint-Paul-de-l'Ile-aux-Noix where Layton visited Monday morning with a few of his newly elected members of his Quebec-based caucus. He promised flood victims that he would speak to Harper directly about their many concerns.
However, residents are skeptical about Layton's ability to change the situation and what they want is for the military to stay and for the water to go away. One woman in the region said that she has sleepless nights thinking about the mess that she will have to clean up when it is all over. Other residents didn't care which politician came, they didn't think it would make any difference.
One of the concerns that residents are raising in particular is Harper's decision to withdraw the military as water levels rise. When the water recedes, sandbags that can weigh as much as 30 kg will be left for the residents to clean up on their own.
People in the region are now entering the fifth straight week of the flood where people literally need to use boats to cross the streets. Several thousand homes and businesses too, are underwater.
"It's been predicted for quite some time that we're going to have worse weather — stronger weather," Layton told The Canadian Press. "All the insurance companies have been predicting it, weather scientists have been predicting it. We're going to have to take a look at how we respond, as a society."
Defense Minister Peter MacKay, however, made it clear during his visit to the region last week that the soldiers, which peaked at 800, will assist residents with the developing emergency but not the clean up.
Quebec Premier Jean Charest has been in the region four times announcing that the province would establish three task forces. One would focus on reconstruction, another on temporary shelter, a final on disaster prevention.
Over the weekend, heavy rain and strong winds caused the Richelieu river to rise another 25 cm bringing it to its highest levels for the third time in 45 days.
"The same level as 6th of May, which I think was the highest," Saint-Paul-de-l'Ile-aux-Noix Mayor Gerard Dutil told CTV News Channel on Monday.
"Hopefully, with the weather persisting, we should be able to do something in the next 10 or 15 days, but we will have to come out of it soon," Dutil said.
If the river peaks as officials expect in the coming days, it will take weeks of good weather for the water to disappear and for a clean up operation to be able to take place.
Despite the Harper Government's decision to leave Quebecers stranded, a site called SOS Richelieu has managed to get more than 7,500 people to volunteer for its clean up operation that could start as soon as the weekend of June 11 and 12.
Other relief efforts include a Red Cross concert in Montreal on June 1 and a comedic fundraising event in Saint'-Jean-sur-Richelieu on June 7.