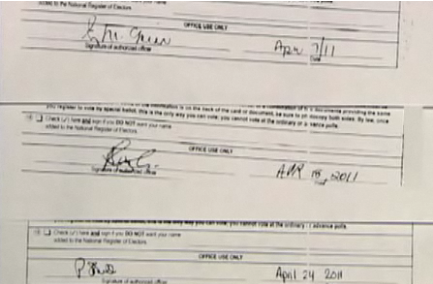 Robocall Scandal: Alleged Suspicious Activity in Eglinton-Lawrence Riding
---
Former Liberal MP Joe Volpe has asked for a formal investigation into the Eglinton-Lawrence riding where he alleges Election Canada laws have been broken. Natural Resources Minister Joe Oliver called the allegations 'unsavory' and called Joe Volpe a 'sore loser,' claiming that there was no voter suppression in the riding.
"We conducted a completely clean campaign in Eglinton-Lawrence. I was very pleased that we won by over 4,000 votes," Oliver told said on Thursday. "I have no idea what this is about."
Meanwhile Liberal campaign lawyer Tony Pascale said "There were an inordinately high number of voters registering who were not on the voters' list, in order to cast ballots."
Oliver said that the increase in turn out as due to hard work. "We increased the voter turnout by 5,000 votes," he said.
But the allegations and the first rounds of evidence in the riding tell a different tale, one of possible vote rigging and robocalls.
CBC estimates that as many as 2700 names on the electoral list were fake and if that wasn't enough, the riding was also struck by robocalls.
Dean Del Mastro said last week that the Liberals were responsible for the robocalls that went to their ridings, falsely trying to link them to an American firm. It just so happens that one of the Liberal campaign workers in the office received the call, while at Liberal headquarters.
The female caller claimed to be from Liberal headquarters, spewing the false information to Liberal Headquarters volunteer and Eglinton-Lawrence resident Marsha Sands. Sands traced the phone call to an American number and the caller said she worked for a research firm and quickly hanged up.
"This is not dirty tricks," Sands said. "What was going on is illegal."
Sands worked for Volpe's campaign for 10 years and added, "Since this robocall and all the little schemes that went on in last year's election, we're no different than the people that we point fingers at, like China, Russia. What's the difference?"
The influx of unregistered users left addresses to non-existent locations and some to a UPS store, some left no address at all. CBC found that most of these same names don't have a previous address. This raises real concern.
An Elections Canada official said that without this information, they would not have been given "authorized approval," but they were.
"You know, if they couldn't provide sufficient evidence of their riding address then they should not have been allowed to have voted, so I'm very disappointed that that would have taken place," resident Kim Froats told CBC.