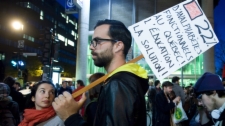 Analysis: Mulcair Says Solution to Quebec Education Crisis is More Federal Funding
---
NDP leader Thomas Mulcair said his party wants more federal funding for post-secondary education. Mulcair said that the demand was a criticism of the Harper government's management of the Education portfolio and not an attempt to interfere with Quebec politics.
"Our fight is not with the Charest government," said Mulcair, who served as a minister in Premier Jean Charest's cabinet.
"Our fight is to make sure that the federal government does its job of spending more with regards to post-secondary education."
Federal transfers to the provinces have increased since the Conservatives came to power and those to Quebec in particular have risen by 43% – to $17.6 billion since 2005-06.
Meanwhile there has been controversy over accusations that Mulcair took the file and prevented his rookie student MPs from speaking on the matter.
"I'm the spokesman on it," Mulcair said. "I'm the intergovernmental affairs spokesman in our caucus so it's my file."
Mulcair brushed off the accusations attacking the Bloc Quebecois and Quebec City counterpart while saying there had been a "lively discussion on the NDP's long-standing policy to have the federal government re-engage on post-secondary education and research."
"We're all full-square behind that the idea that the federal government has to play a more active role on post-secondary education," Mulcair said, declaring that he believes the federal government should play a larger role in post secondary education.
"We're leaving the largest ecological, economic and social debt in history," Mulcair said.
"To know that the average student in Canada is borrowing $30,000, just to get a bachelor's degree, how is a young couple supposed to buy a house with $60,000 debt?"
---
A cash crunch has lead the Quebec Liberals to impose tuition hikes but it has come up against staunch opposition. One third of Quebec students have been protesting for most of the semester and large demonstrations have been planned in downtown Montreal.
Quebec students pay the lowest tuition in Canada and the current version of the hikes would amount to a hike of $254 per semester for seven years, plus an index for inflation.
Students meanwhile argue that there is waste in the education system that should be dealt with first, and other countries with strong economies, like Germany, have free tuition.
La Classe, the more militant student group, offered the following proposals to try to resolve the conflict:
Reducing the amount Quebec universities devote to research by $142 million
Banning universities from commercial advertising (recruitment of students)
Implementing an immediate salary and hiring freeze on university administrators
An immediate moratorium on new campus construction, and the expansion of existing buildings
The Quebec Government came to a compromise with student groups stating it would cut other university fees to implement the tuition hike but as it stands students who are voting on the proposal are rejecting it.
Considering that the Quebec Government has gotten increased funding from the federal government, and increased taxes by 2%, one would think they had plenty of money to balance the books and not attack the future of our nation. Instead, the Charest government has attacked the youth and proposed another tax and spend budget which does nothing to improve the quality of life of Quebecors.
Arguably, what Premier Jean Charest should have done was cut bureaucratic costs, salaries and perks, and revised his spending priorities. This would have led him to present a budget that spent less than the $80 billion that this one did where spending was up by about 2%. In short, efficiencies should have been found and instead of raising the QST by 2% – reaffirming Quebec's high tax mantra – Charest should have made cuts across the board to management and administration in bureaucratic offices.
In fact, perhaps La Classe's initial proposal didn't go far enough.
If the Quebec government did the following and applied similar strategies to all departments, what would they need tax hikes for and what would Mulcair's funding plan be needed for?
Lay off admin staff and cut admin salaries and perks
Have an immediate audit on spending and a thorough examination of all new construction and renovations.
With surplus, lower tuition and re-evaluate teacher's salaries to give fairer compensation.
Revise other spending proposals in the budget and make cuts to in-necessity and transfer funds to where it is needed.
Perhaps the aim of the Charest government should be to reduce costs, and not try to pin the weight of a wasteful system on students. Perhaps if Quebec got its finances together, Mulcair wouldn't have to spend millions of tax payer dollars trying to fund a system that has a sufficient amount of funds – it is all in the way you cut the pie and it's all in the way you manage it.
How would you deal with Quebec's Education crisis?