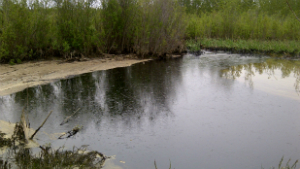 The Alberta Pipeline: En Route to Disaster
---
While the Conservatives and NDP divide the East and West over the effects of the tar sands in terms of the economy and effectively play political games, and while Harper gets funded by oil lobbyists to attack Environmentalists as radical terrorists, an oil spill in Alberta is proving the dangers of the project.
Over 3,000 barrels of oil leaked beneath Jackson Creek on Thursday night paralyzing local economies, threatening to contaminate drinking water and leaving residents in fear as flood warnings in the area are apparent. The pipeline through Alberta and British Columbia, crossing through the BC forest known to the rare spirit bear, hasn't even been started but we already see the effects of careless and dangerous exploitation of the dirtiest oil in the world.
When given the opportunity to tap into what could have been a lucrative energy deal between Canada and the US, US President Barack Obama put his people first and rejected the offer. This has prompted Prime Minister Stephen Harper to sell the entire project to China and this threatens to raise the fuel costs across the country while putting Albertans in the line of fire for any mistakes.
Alberta is known to be home to some of Canada's finest landscapes and with this project, they will be destroyed, and with future oil spills like these, the damages may be rendered irreversible.
This recent spill threatens to harm the way of life of 100,000 Albertans who live downstream on the Red Deer River.
For resident Chris Huhn, this is déjà vu of the spill in April 2008 which leaked 125 barrels.
"I just hope this beautiful lake isn't going to be wrecked with this terrible spill," he said, adding many of his neighbors are concerned.
He was driving home at 11pm that night and smelled a strong odor and called the Energy Resource Conservation Board and was told of a nearby oil spill.
"I know we need the oil, but at what cost?" he asked. "This is the drinking water for the City of Red Deer and we're gambling with it."
Stephen Bart, Vice President of Crude Oil Operations for Plains Midstream said that it is too early to tell how long a clean up will take on a swollen and fast moving river.
"We deeply regret this incident," he said. "We're obviously working to ensure we're doing all we can to limit the extent of the release."
An alert was issued and people have been prevented from fishing in the area. Meanwhile, the shore is covered in oil and continues to wash up.
This is the second time that the company has had an oil spill in roughly a year after its Rainbow pipeline cracked and spilled 28,000 barrels of oil near Peace River Alberta.
"Who's to blame? The government are the ones who gave them approval in the first place. It's unfortunate it had to happen," Randy Westergaard of the Gleniffer Lake Resort said as his marina was closed until further notice.
Albertan Premier Alison Redford said the spill as unfortunate but defended their efforts.
"It's actually an exception, if you think that we have hundreds of thousands of kilometers of pipelines across this province," she said. "There has been a leak and it has been contained."
One of the "terrorist" environment groups, Greenpeace, stated through their spokesman, Mike Hudema that "we have a federal government that is trying to gut Canada's environmental legislation and streamline the process for future pipeline proposals, and so that's something that we think definitely needs to be stopped."
While Hudema doesn't seem like a terrorist or radical, one thing can be said to the Conservatives: Climate change poses a larger threat to mankind than terrorism ever has.
Sundre is located 100km west of Red Deer and it too is facing the consequences of the oil spill.
As the Conservatives get bribed by oil lobbyists who then use Sun News as their outlet, species are being endangered and oil extraction practices are not subject to enough regulation. On top of that, the Conservatives are set to pass their recent budget, Bill C-38 which acts to deregulate the industry further while neglecting the impact it will have to the local community, local economy and local safety of Albertans and British Columbians who will be in the direct path of the pipeline. One can already imagine how healthcare costs will balloon, as well as cleanup efforts and losses in food supplies.
Do you think the pipeline is a good idea?