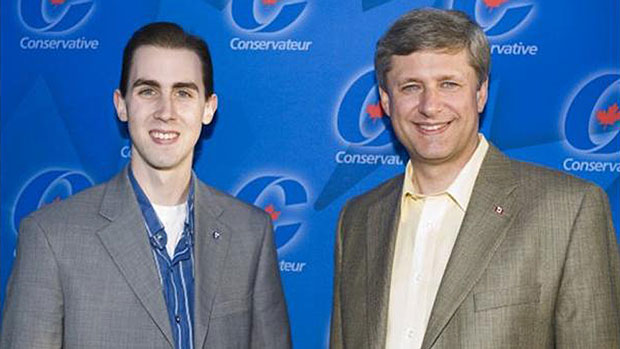 Elections Canada charges former Tory staffer in Robocall probe
---
It has been nearly 2 years since the election that gave the Conservative Party a majority mandate and since alleged robocalls took the political scene by storm with the sole intention of misleading voters. The Conservatives may have tried to deny it and derail any investigations, but Elections Canada has moved forward with its investigation placing charges in the riding where it all started.
Yesterday, former Conservative junior staffer in Guelph, Michael Sona was charged under the Elections Canada Act for violating section 491(3)d which prohibits preventing or trying to prevent voters from casting their vote.
Sona's first court appearance is set for May 3 and if the case finds him guilty, he can face a maximum penalty of 5 years in prison and $5,000 in fines.
Sona's lawyer Norm Boxall has released a statement that joins the chorus asking for a public inquiry.
"I cannot help but comment that if the government was interested in the public being fully informed and the issue of robocalls being properly addressed, a full public inquiry would be called, rather than a charge laid against a single individual who held a junior position on a single campaign and who clearly lacked the resources and access to the data required to make the robocalls. I am confident the public agrees."
Sona has spoke publicly last fall stating that he has no interest in taking the fall for actions that he is not responsible for.
"All the anonymous sources in the world can point the finger at me, but I'm not going to take responsibility for something that I'm not responsible for," Sona said.
"I think that there's some people that maybe had an interest in seeing me take the fall for it."
His argument went on to state that it is impossible for someone with no access to the calling list that was used in the scandal to be able to pull it off and that he felt the party was using him as a scape goat.
"You've got to take a look at the options and just say, 'You know what, what is the more realistic option here? That some then-22-year-old guy managed to co-ordinate this entire massive scheme when he didn't even have access to the data to be able to do this, or the alternative — that this was much more coordinated or possibly that there were people that knew how to do this, that it was being done?'"
Documents filed in court state that Conservative Party lawyer Arthur Hamilton said the list of people who got misleading phone calls in Guelph was the same as the party's list of non-supporters on April 27, 2011.
Meanwhile, Elections Canada hopes the charges send a strong message to those who were involved in the distributions of misleading robocalls that has lead to complaints in 247 ridings.
"The strong public reaction to the fraudulent telephone calls made to electors in Guelph during the May 2011 general election shows how deeply disturbed Canadians were by what happened," said Yves Côté, the commissioner of Canada Elections.
"I hope that the charge we filed today will send a strong message that such abuses under the Canada Elections Act will not be tolerated."
However, Chief Electoral Officer Marc Mayrand paints a bleak picture stating in his report that unless election laws are changed, another robocall scandal can happen in the next election.
The Conservative Party, which has faced a lot of heat throughout the ordeal has released a statement professing its innocence.
"In 2011 we reached out to Elections Canada when we heard of wrongdoing in Guelph and did all we could to assist them. We are pleased that Elections Canada's work has progressed to this point. The Conservative Party of Canada ran a clean and ethical campaign and does not tolerate such activity. The Party was not involved with these calls and those that were will not play a role in any future campaign. Voter suppression is extremely serious and those responsible should be prosecuted to the full extent of the law. We spent the entire campaign identifying supporters and we worked hard to get them out to vote. Our job is to get votes out, we do not engage in voter suppression."
However, their past actions say otherwise:
For a party that has rosy words professing their innocence and a "tough on crime" mantra, their actions have cast doubt on their integrity. A public inquiry should have cleared the Conservatives of wrong doing. Taking robocall seriously, rather than dismissing it as an "unsubstantiated smear campaign" would have shown the Conservatives are tough on crime: election fraud is a crime.
Recently, Elections Canada found that Labrador MP Peter Penashue accepted 28 illegal donations in the last election. Penashue has resigned, only to state that he would run again and to start his new campaign several days before his resignation even came to light.
Sona said he wasn't going to be the scapegoat for the Conservative Party. We shall now see what he has to say and who he will implicate as Canadians await answers. It is clear that there is sufficient evidence that illegal activities took place in the last election, and the fact that a charge was laid on a Conservative staffer only begins to indicate what we can and should expect over the next few months.
Again, on grounds of principle and even political strategy, what are the Conservatives thinking? Innocent people don't hide, don't blame, don't dismiss wrong doing, especially not those who promise to clean up crime. For an innocent Conservative party, a public inquiry would have done two things: clear their names if they are innocent and make them appear tough on crime. However, it isn't too late to call a public inquiry. Arguably, if the Conservatives have any left over integrity (they shot themselves in the foot with their initial reactions and reluctance), and are reading this, they should push for an inquiry to get to the bottom of this – unless of course, they have something to hide.
On a side note, if the Conservatives are really keen on representing Canadian people and Canadian values they should be calling byelections in the close ridings which were allegedly targeted by robocalls. The last court case, which appealed the lower court's decision to call a byelection, saw a Conservative victory in the Supreme Court against former Liberal MP Borys Wrzesnewskyj who argued that the difference between him and current MP Ted Opitz was less than the number of people who received suspicious calls in Etobicoke Centre.
So what do you think? Will charging Michael Sona end the probe? Will he release details that are necessary to solving the case? Will the Conservatives finally call a public inquiry?