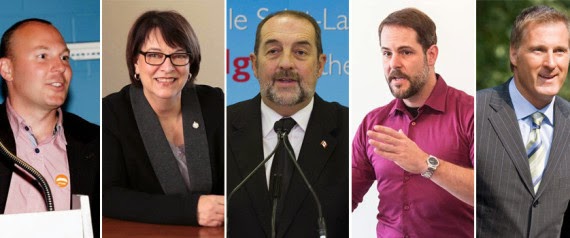 Conservative and NDP MPs donated to Quebec separatists
---
A Huffington Post review of Elections Quebec records shows Conservative and NDP MPs have donated to separatist causes since 2000. A review of Prime Minister Stephen Harper's days as a Reform MP reveals he pushed Jean Chretien's Liberal government to accept a 50%+1 majority result during the 1995 Quebec referendum.
Sovereignty has taken the front row seat in Quebec's ongoing election campaign and as revealing as it is for Quebecers about how their political scene is shaping, it is equally revealing as to how the Conservatives in government and NDP in Official Opposition view Quebec's separatist movement. If you need to tell your MPs not to donate to a sovereignty movement, you have a real problem.
A Huffington Post report has uncovered donations to separatist parties made by Conservative and NDP MPs since 2000. NDP MPs François Choquette, Anne-Marie Day and Alexandre Boulerice have all donated to the Quebec Solidaire, a left-wing separatist party in the province, as recently as 2012. Conservative Infrastructure Minister Denis Lebel and Small Business and Tourism Minister Maxime Bernier both donated to the Parti Quebecois before they were elected.
Choquette donated $560 between her election in Drummond in 2011 and the 2012 election in Quebec. Day gave $100 during the 2012 election campaign, although she noted it was for the candidate and not the party.
Quebec MPs interviewed by the Huffington Post were told by NDP leader Thomas Mulcair's office not to make any donations during the ongoing election campaign in Quebec, an order that Liberal MP Marc Garneau and the PMO say wasn't issued in their respective parties.
"I'm pretty sure no one in my party will be making donations, because we're very strict on this," Isabelle Morin, MP for Notre-Dame-de-Grâce–Lachine, told HuffPost Thursday.
"My colleague, Alexandre Boulerice, was attacked in the House of Commons for the contributions he made, so they told us 'no more.'"
Garneau took a swipe at the NDP saying if MPs need to be told not to give to a sovereigntist party, "it is probably because there was a concern that some of them may not be 100 per cent committed to federalism." Garneau added that Mulcair's neutral position during a campaign where sovereignty is on the table is concerning and not the actions of a future Prime Minister.
Liberal Leader Justin Trudeau weighed into the Quebec Election on Twitter endorsing the Liberal Party of Quebec, lead by Philippe Couillard.
It's up to Quebecers to decide the outcome of this provincial election. #qc2014
— Justin Trudeau, MP (@JustinTrudeau) March 13, 2014
Quebecers want a better economy, not a third referendum.
— Justin Trudeau, MP (@JustinTrudeau) March 13, 2014
My Quebec colleagues and I support federalism, @phcouillard and the #QLP.
— Justin Trudeau, MP (@JustinTrudeau) March 13, 2014
The Bloc Quebecois also took a swipe at Mulcair, who used to be a cabinet Minister in Jean Charest's provincial Liberal government. "In Quebec, he is much softer on nationalism, but in the rest of Canada, he's Captain Canada, someone who will take a tough stance against separatists and will be better than [Liberal Leader Justin] Trudeau to crush the sovereignty movement," said Bloc Quebecois MP Jean-François Fortin who implied Mulcair spoke from two sides of his mouth.
The NDP released a statement in response, saying "Mr. Mulcair has fought for Canada during the 1980 and 1995 referendum. It's pretty clear where he stands."
"Several NDP MPs voted yes during the 1995 referendum, others have supported sovereigntist parties like Québec Solidaire," Fortin said.
"There is an uneasiness about the question of nationhood. … Perhaps, this [banning NDP MPs from any involvement in the provincial election] is a way to ensure that the NDP doesn't show its true colours publicly."
Conservative MP Jacques Gourde also pounced on the NDP, saying, "If you've give money to a party that supports the separation of Quebec and you are in the House of Commons or part of a federal party, and you get your salary from the House of Commons, well, maybe they changed their minds, but in those years, they were squarely affiliated with parties that supported Quebec's separation."
As the Conservatives grouped the NDP, Liberals and Bloc Quebecois into a "separatist banner" since 2011, they have failed to acknowledge that their own MPs have also contributed to the separatist cause.
While the NDP backed a small social equivalent with slim chances of ever forming a government because of the strange political dynamic in Quebec, Lebel and Bernier have donated to the very party that has spent the most energy trying to break up our country. In 2000, Lebel gave $500 and between 2001 and 2002, Bernier gave the PQ $900.
Bernier used to work for Benard Laundry when he was the finance minister under Lucien Bouchard's PQ government during the late 1990s. Landry said that in order to get the job, Bernier had to be a separatist and "That's what [Bernier] told me he was, and I believed it, and I still believe it," Landry said.
Garneau said the Conservative offenses can be overlooked because of both MPs' strong commitment to federalism and criticized recent donations made by the NDP.
"Obviously, it says something about their previous leanings," the Liberal MP said. "But I don't think it's quite the same as someone who is giving to a separatist party last year."
As the Conservatives took jabs at the NDP for the soft nationalist leaning and the Sherbrooke Declaration, which calls for the federal government to accept a basic 50%+1 majority in the event of a successful referendum, Parliamentary records show Prime Minister Stephen Harper once sang the same tune when he was a Reform national unity critic.
Jean Chretien's Liberal government brought in the Clarity Act which requires Quebec achieve "clear majority" in a referendum with a clear question where "clear majority" is believed to be two thirds. The Conservatives under Stephen Harper are now being made to clarify his 1995 position as they may be inclined to have the same view as the NDP when it comes to how easy it can be to break up the country. The PMO responded, "Your question is clearly intended to draw us into the election in Quebec and we have no intention of doing so as we've said a few times now."
What kind of leader doesn't get involved in an election campaign when the separatists may very well win a majority mandate and use his unpopularity to potentially win another referendum? It appears to be easy for Harper to stand and call his opposition a bunch of soft nationalists but when it comes time to standing up to the real threat, he retreats and has his spokesman say he's not getting involved.
Harper, at the time, proposed the Quebec Contingency Act in a private member's bill, calling for a clear referendum question that if not achieved would be met by a parallel referendum on the same day with the following questions: "Should Quebec separate from Canada and become an independent country with no special legal ties to Canada? If Quebec separates from Canada, should my community separate from Quebec and remain a part of Canada?" Harper's bill specified that if there were no ambiguities on the results, then separation would be granted based on a "majority of the ballots cast." The bill died like most private member's bills do.
Reform Leader Preston Manning wrote in his memoirs that he felt former Prime Ministers Pierre Elliot Trudeau and Jean Chretien set the precedent allowing 50%+1 as a benchmark.
"I felt strongly that the growing ambiguity concerning the meaning of 'Yes' and the meaning of 'No,' and the dividing line between them, was dangerous, especially to the federalist side," he wrote in Think Big.
"As a democrat, I believed that issues should be decided, if at all possible, by a simple majority vote — 50 per cent plus one" vote.
"Since the federal Liberals, including Trudeau and Chretien himself, had accepted 50 per cent plus one as the dividing line in the first Quebec referendum on sovereignty in 1980, I felt it was dangerous for the federal government to argue now for some higher majority."
A former Reform insider revealed Harper also pushed for Chretien to clarify that 50%+1 would be the result needed to trigger break-up negotiations.
"I asked him about it at some point," said Tom Flanagan, Harper's former right hand man but is no longer in his inner circle.
"He said you had to do that to discourage strategic voting on the part of voters in Quebec who didn't seriously want separation but thought that voting yes would give the province a stronger hand to negotiate concessions from Ottawa," Flanagan said.
At the time, Chretien said that the clouded question in the 1995 referendum may lead to him nullifying the results. Harper responded saying, "We have the prime minister saying that a no vote counts and a yes vote may not count. I ask the prime minister to reconsider that position carefully. Is he not really telling Quebecers that it is easy and without risk to vote yes when that is not the case?"
On the matter of Quebec independence, Justin Trudeau's Liberals support the Clarity Act the Chretien government adopted but the NDP want to allow the barest of majorities to determine the break-up of a nation – all the while requiring two-thirds majority on their own internal constitutional votes.
In 2013, NDP MP Craig Scott tabled a private member's bill entitled the Unity Act which would redefine conditions needed for Quebec succession to follow the guidelines set in the NDP's Sherbrooke Declaration. Conservative MP Jason Kenny attacked the bill saying it was "making it easier for provinces to secede from Canada."
As the Reform Party's national unity critic, Harper campaigned in the 1995 Quebec referendum promising a Reform Government would "decentralize Canada" and offer powers to all provinces as part of its "New Confederation."
The plan divided the powers by saying:
The federal government would keep powers over "common economic space," economic regulation, international trade negotiations, defense and foreign affairs.
The provincial governments would be granted powers over natural resources, manpower training, social services, language, culture, housing, sports and tourism.
The federal government would not impose standards on healthcare and threaten to withhold federal funding.
Provinces would be given the power to elect future senators
Provincial legislatures would be in charge of appointments to the Supreme Court of Canada
The federal government would elect a governor for the Bank of Canada but the board itself would be appointed by provincial legislatures.
The Constitution would be amended "unilaterally" to forbid deficit spending and rapid spending increases unless authorized by a national referendum.
What do you think of the Conservatives' and NDP's stance on Quebec sovereignty?