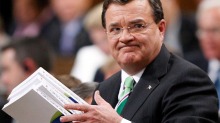 Liberals Slam Conservative Economic Record
---
The Conservatives may have attacked Bob Rae in a recent set of attack ads but the Liberals are exchanging fire, blasting them on their economic record. However, no ad has been released – yet.
While attacking Rae on his record in Ontario, the Conservatives tried to promote their own but the facts don't add up and the Liberals pounced.
Bob Rae's Spokesman charged stating:
"They want to talk economic record? Stephen Harper took a $13-billion surplus and turned it into the biggest deficit in Canadian history," Lauzon said referring to the historic $56-billion deficit that was built during the Economic Downturn.
Lauzon continued on the charge, stating, Harper added $125-billion to the national debt and 270,000 more Canadians are out of work since the Conservatives first took office in 2006.
During Rae's mandate, the deficit in Ontario was $10 billion per year.
"I started subways, they destroyed them; I build social housing, they destroy it; I build people up, they tear them down," Rae said Monday. "Plus the Blue Jays won the World Series twice when I was premier."
The Liberals vowed to collect money to run an ad campaign and if successful, we will see the first non-election Liberal ad – we will see if they can match up to those of the Conservatives.
The Conservatives attempt to sway voters into believing that their economic record is sound but the numbers reveal a different story. They've got plenty of ads on behalf of the Conservatives and the Government of Canada taking pride in "economic success" that is in fact economic failure.
The government entered deficit before the recession and spending increased by over 40%. At the peak of the recession, the Conservatives managed to reach a record-breaking deficit of $53 billion. They inherited a $13 billion surplus in 2006 from the Martin and Chretien Liberals.
Comparing Canada to other countries is a bit pathetic considering that a true economic manager who is prudent wouldn't have overspent in the first place – nor squandered a $13 billion surplus in less than 2 years.
Not to mention that they raised EI Premiums – making hiring more expensive and are allowing jobs to slip in free fall as labor disputes break out. Since the Government has chosen its side, there is no longer a need for an agreement between management and the workforce. Expect a long and tough year and expect to retire later.
The Conservatives also taxed income trust, which Harper urged he wouldn't do in 2006.
The Conservatives like to preach that they have a steady hand on the economy but it turns out they have a steady hand on disaster. Is this the government you voted for?